About 10 years ago, Tesla Motors CEO Elon Musk outlined the company's goals in what he called its "master plan." Now he is doing it again, explaining where the car company will go in the coming years to enable the expansion of electric vehicles (EVs) and solar electricity.
Musk's first master plan has been pretty much carried out by Tesla over the past several years: the introduction of a low-volume, high priced car (the Model X) in order to pay for the company to introduce a medium-volume car at a lower price (the Model S) and then a more affordable low-priced EV (the Model 3) for broader reach. The last part of the plan was to invest in solar power and with Tesla recently in talks to acquire SolarCity (read: Tesla Makes a Bid for Rooftop Photovoltaic Provider SolarCity), the master plan is near completion.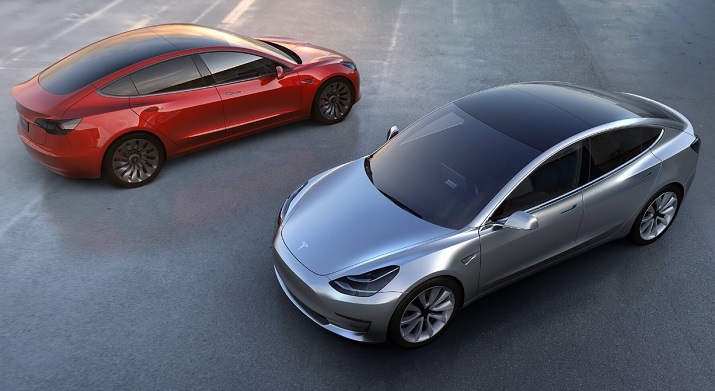 The Model 3 from Tesla is just one of many new vehicles Tesla is planning to use to expand the adoption of electrified automobiles. Source: Tesla Musk has outlined what Tesla will do next in a blog post entitled "Master Plan: Part Deux." The blog details how the company will expand its reach of EVs into other markets with the Model 3, a future compact SUV and a new kind of pickup truck. In order to expand into other areas of the automotive market, Tesla is examining both heavy-duty trucks and a high passenger urban transport vehicle.
Part of this plan to electrify both industrial and public transit will reside in autonomous driving in order to ease congestion, shrink the size of the vehicles, and enable smart features such as summon buttons for buses. Tesla will invest in future autonomous software and hardware features in order to make the technology safer than the average human driver. This includes adding technology to the vehicles such as cameras, radar, sonar and computing hardware.
Once the hurdles are cleared for self-driving from regulatory agencies and technology, Musk says that drivers will be able to summon their Tesla from anywhere using a smartphone. It will allow drivers to read while going to a destination, watch a movie or anything else. Additionally it will enable Tesla owners to add their car to a fleet of vehicles also using a smartphone for ride sharing. This will allow drivers to potentially generate income without having to drive anywhere. Tesla also says it plans to have its own fleet of vehicles for this purpose.
Finally, Tesla will continue to expand beyond just automotive vehicles and into solar rooftop energy and energy storage. Tesla already is offering is Powerwall energy storage in a few countries, and it will pair this system with its solar wing, SolarCity, once the acquisition is completed.
To contact the author of this article, email engineering360editors@ihs.com