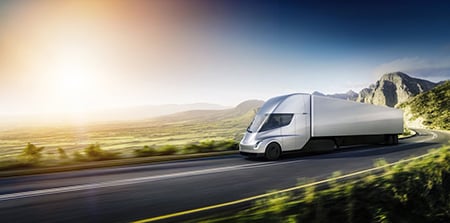 The Tesla Semi. Source: Tesla Inc.
The Tesla Semi has been unveiled. In what the New York Times called an "elaborately produced nighttime presentation" last night, company CEO Elon Musk introduced a prototype for an electric truck designed to be more efficient and less costly to operate than those ubiquitous diesel rigs.
Musk said the truck — which will be equipped with radar sensors, cameras and processors for semi-autonomous driving — will go from zero to 60 mph in five seconds (without a trailer), and in 20 seconds when carrying its maximum 40-ton load. He also said it will have a single-charge range of 500 miles; various news outlets have reported that this is higher than many analysts had expected. Whether or not Tesla can make good on this promise, of course, will remain to be seen.
As designed, the truck's two rear axles each have two wheels with a dedicated electric motor; overall energy consumption is less than 2 kilowatt-hours per mile. A Tesla tweet also said that the drivetrain is guaranteed to last one million miles, or "more than 40 trips around the Earth." With no engine or transmission, maintenance costs will likely be less than in traditional vehicles; the company estimates a $1.26 per mile cost to operate, compared to $1.51 per mile for a diesel truck. This cost can also be reduced, Tesla says, if trucks travel in convoys to reduce wind drag — a statement that jibes with another Tesla tweet that referred to the vehicle as being "more aerodynamic than a Bugatti Chiron."
As for the cost of the truck itself, Musk simply said, "Tesla stuff is expensive."
We reported on the unveiling earlier this week. In the days leading up to the big reveal, Musk had said the event would "blow your mind clear out of your skull and into an alternate dimension." In a note to CNBC, however, Jeffrey Osborne, an analyst with financial services firm Cowen Group, said that the event raised more questions than answers — such as the truck's cost, details about servicing and the network of solar-powered Megachargers that Musk says will be deployed to allow truckers to "travel anywhere in the world."
"Putting it simply, our mind wasn't blown and we are still in this dimension," said Osborne.
Production is expected to start by the end of 2019. Interested parties wanting to reserve one can do so now, for a wire transfer of $5,000.