When it comes to hybrid electric vehicles (HEVs), garnering consumer interest is of paramount importance. While HEVs have certainly had an impact in the automotive industry, the number of consumers buying them continues to be dwarfed by those buying conventional vehicles.
The benefits of HEVs are widely known in the marketplace as being environmental friendly and fuel efficient. However, in order to garner further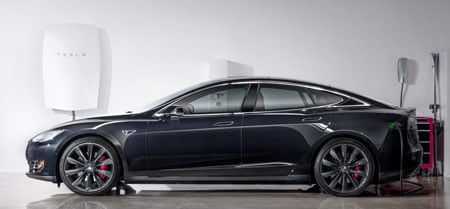 Tesla's Powerwall. Source: Tesla Motorsconsumer adoption, the environmental impact can no longer be the sole selling point. As a result, HEV OEMs are changing the powertrain to appeal to those wanting better performance.
To do this, the driving range needs to increase in order to convince consumers that HEVs can compete against combustion engines. This can be achieved with a larger battery (such as the one Tesla uses, but which also adds cost) or creating efficient improvements in current batteries.
There is a drastic shift happening in the HEV market away from nickel-metal hydride (NiMH) batteries to lithium ion (Li-ion) batteries, according to IHS. As the price of Li-ion batteries continues to be driven down due to the economies of scale, more vehicle OEMs are making a switch to Li-ion batteries because they have a better power to weight ratio, which implies a smaller and lighter battery pack. And because Li-ion batteries have a higher specific energy density, this allows for a longer driving range for HEVs (Read: Lithium Batteries: The Pros and Cons).
Lighten Up
A second key to increasing the driving range, overall power consumption and performance of HEVs is to make the car lighter. One way automotive OEMs are accomplishing this is through the consolidation of engine control unit (ECU) inside the powertrain, IHS says.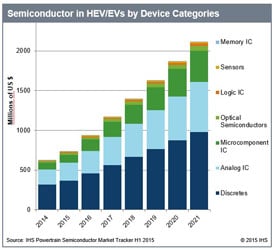 IHS forecasts semiconductor revenues for HEV/EVs will rise to more than $2 billion by 2021. Source: IHS Early models of HEVs used about five to six different ECUs—motor generator/inverter, DC-DC converter, battery management system, plug-in charger, auxiliary inverter and sound generator. Now, consolidation under the hood has reduced the number of ECUs to about four. In some cases, one ECU performs the function of the motor generator/inverter and the DC-DC converter, and in other cases one ECU performs the functions of plug-in charger and DC-DC converter.
This is where semiconductor vendors are playing an important role in enabling consumer adoption of HEVs, IHS says. Multiple core microcontrollers are allowing for the consolidation of ECUs from suppliers such as Infineon, Renesas and Freescale. These same microcontrollers are also having a role in the functional safety aspect of vehicles, reducing the number of components in safety features.
IHS forecasts the semiconductor revenue for HEVs and electric vehicles (EVs) will increase to more than $2 billion by 2021, up from just over $500 million in 2014. The highest revenue generating chips will be in discretes, analog ICs and microcomponent ICs, IHS says.
48V Rising
One sure way to increase consumer adoption of HEVs is by reducing the price of the cars in general. While different financing models can be used to accomplish this, from an electronics perspective, vehicle OEMs are embracing the upcoming 48V broad-net bus.
The 48V broad-net bus is another voltage bus that transfers the voltage from the battery to other systems. Vehicles with this technology would be classified as another form of mild-hybrid vehicle and will help reduce the CO2 emissions at a minimum added cost. The 48V bus increases efficiency in HEVs/EVs and opens up new functions for the consumer, IHS says.
"This system would allow the car to have functions such as recuperation, boosting and sailing," says Ahad Ahmed Buksh, analyst for automotive semiconductors at IHS. "It also lets the cable cross-section to be reduced by up to 75%. This has a positive effect on weight cost and design of cable harness."
Pushed to the Market
While OEMs gear up to transform the powertrain to appeal to more consumers in order to increase market share and the bottom line, they also have
Ahad Ahmed Buksh, analyst for automotive semiconductors at IHSno choice in the matter due to strict governmental emission targets.
Automotive OEMs have to meet stringent emission targets by the 2020-2021 time frame where average fleet emissions of CO2 has to be less than 95 g/km and that target gets even stricter in 2025. To do this, "the only way, as of today, is to increase the share of hybrid electric/electric vehicles in the fleet," Buksh says.
So OEMs and governments are coming up with ways to increase the penetration of these vehicles in the market by offering tax reduction benefits or subsidies with the purchase of an electric vehicle.
"Hybrid electric/electric vehicles will be pushed by the OEMs into the market, regardless of the consumer's choices," Buksh says.
Questions or comments on this story? Contact engineering360editors@ihs.com
Related links:
IHS Automotive & Transportation
News articles:
Light Vehicle Growth to Slow for the Rest of the Decade
HERE Acquisition: An Interesting Look at a Sharing of a Collective Strategy Resource
Lithium Batteries: The Pros and Cons
'Outsiders' Make Inroads in ADAS Market
Deep Learning: Automotive Industry Takes a Giant Leap Forward