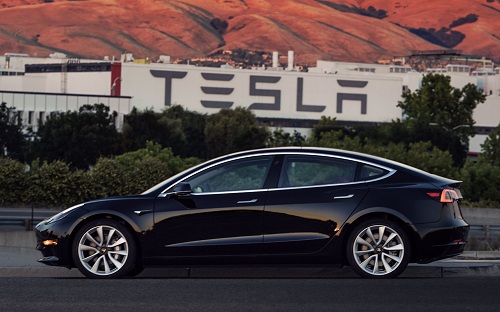 First production vehicle of the Model 3. (Source: Tesla)
Over the weekend, Elon Musk, CEO of Tesla Motors, tweeted out images of the first production Model 3 electric vehicle (EV), the third model car from the company.
Earlier this month, Musk stated that Model 3 has passed all of its regulatory requirements for production ahead of schedule. A few days later, a production model was rolled off Tesla's factory line.
The Model 3 is Tesla's attempt to deliver a more affordable electric vehicle that Tesla hopes will appeal to a broader audience with a price tag of about $35,000.
The Model 3 will supposedly have a driving range of about 215 miles and will go from zero to 60 in about six seconds. Tesla says production levels should reach about 20,000 per month by December of this year.
Musk says there should be about 100 cars available by the end of August and another 1,500 by September.
Reportedly, there have been 400,000 reservations for the Model 3.