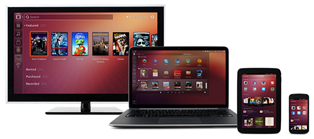 Five connected media devices per home by 2019. Tablets, smartphones, smartwatches, notebook PCs and other connected devices have become ubiquitous across the world. By 2019, the number of connected devices users will grow even further to an average of five devices per home, according to a new report from IHS.
In some regions, such as North America (which is considered to be the world's most mature hardware market), this number will be even larger and possibly double this amount.
Screened devices comprised more than 60% of the connected device market at the end of 2014, but IHS forecasts this share to rise to almost 75% by 2019. The rise of screened devices will be on the back of smartphones that will continue to grow to 5.9 billion units by 2019, up from 2.6 billion in 2014. IHS forecasts that the ratio of smartphones to tablets will increase from 5:1 to 9:1 during this time.
OTT Industry Takes Advantage
The rise in connected devices in the home is an advantage for the online media industry with opportunities to take an even-larger footprint across the landscape of connected hardware, IHS says. As the installed base of connected devices grow, the over-the-top (OTT) market's reach will grow in tandem.
While the OTT market is co-determined with the availability and distribution of media content, device proliferation give services more chances to grow in the market. Netflix has become the leader in this area by seeing an addressable market of nearly 300 million devices in the U.S., which accounts for 31% of the country's total connected installed base. IHS forecasts that Netflix's addressable base will grow to 500 million devices by 2019, growing its overall share of the total connected installed based.
Questions or comments on this story? Contact engineering360editors@ihs.com
Related links:
Connected device market monitor: H1 2015
News articles:
Connected Audio Device Market Set for Rapid Growth
Smart Connected Home Appliance Makers Shift to High-Margin Devices