The global audio market has been reinvigorated by the rise in mobile devices resulting in accelerated growth to the tune of a four-fold increase from 2014 to 2018 in unit shipments, according to a new report from IHS.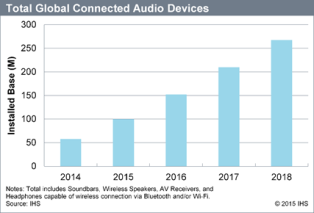 Total global connected audio devices are expected to reach 267 million shipments by 2018. Source: IHSConsumers shifting toward on-the-go music listening as well as the rise in popularity of Spotify, Pandora, Deezer and other streaming music services are increasing music consumption in mobile devices such as tablets and smartphones. As a result, IHS forecasts total connected audio devices—including soundbars, wireless speakers, audio-video (AV) receivers and headphones—to rise to 267 million units by the end of 2018, up from 58 million units in 2014.
With smartphones and tablets expected to make up 83% of all media-enabled consumer electronics device shipments by 2018, consumers are quickly shifting music consumption to wireless connected listening options.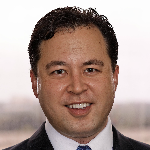 Paul Erickson, senior analyst for the connected home at IHS"With the shift to an Android-dominated mobile-device market, audio manufacturers are steadily moving away from the wired-only and Apple-only connections of old, in favor of wireless connectivity as an agnostic and consumer-friendly way to connect their products to tablets and smartphones," says Paul Erickson, senior analyst for the connected home at IHS.
The shift in consumers' home audio preferences has moved from traditional monolithic audio-component systems, to hardware supporting direct playback via Bluetooth or multi-room networks controlled by mobile devices, IHS says. While Bluetooth speakers and headphones have become ubiquitous in the market, Wi-Fi-based network-connected multi-room speakers have also grown in popularity.
"Smartphones and tablets have fundamentally changed modern consumers' everyday lives, including the way people buy and consume audio content," Erickson says. "We will soon live in a world where mobile devices are the primary way consumers listen to music—not only on the go, but also in the home."
Questions or comments on this story? Contact engineering360editors@ihs.com
Related links:
Broadband Technology Intelligence Service
News articles:
The Latest Home Automation Craze: Grab a Raspberry Pi and Just DIY
Automotive OEMs Rush to Integrate Smartphone Connectivity