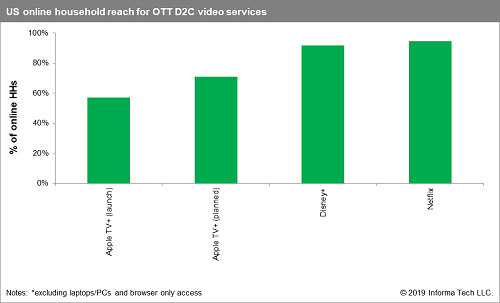 Projected reach of OTT video services by platform. Source: IHS MarkitCome November, a host of new streaming options will be available from Apple and Disney, among others. However, these new options may have trouble finding traction in a growing sea of content platforms demanding consumer dollars and attention, according to a new report from IHS Markit.
While Disney is rolling out its Disney+ service and Apple is set to launch Apple TV+, both coming in November, WarnerMedia plans to introduce HBO Max and NBC Universal/Comcast will introduce its Peacock service in 2020. These will compete against already established streaming services from Netflix, Hulu and Amazon Prime Video.
IHS Markit said these service launches show a major shift in the online video market as more firms move into the business of over-the-top (OTT), direct-to-consumer (D2C) video services. A total of 11.5 billion video-streaming-ready products are expected to be connected to the internet worldwide in 2023, up from 8.9 billion in 2018, IHS Markit forecasts.
As these services are launched, they will battle it out for the attention of all the devices that are currently able to stream media. However, as the number of devices increases massively over the next few years, so will competition.
"The introduction of so many major OTT services is highlighting the changing landscape of the TV and online video market," said Fateha Begum, principal research analyst at IHS Markit. "Traditional content owners like Disney and Warner now are making big moves into providing D2C services. Meanwhile, Apple launching original programming for the first time, competing with the global OTT providers, Netflix and Amazon."
Apple's service will address only about half of the total U.S. market and as a result is likely to have limited subscriber growth compared to competitive offerings, IHS Market said. The service will initially be launched on iOS devices, Samsung's Smart TVs and through web browsers in about 57% of the homes in the U.S. —those households with an iPhone, iPad, Macbook, Apple TV or Samsung Smart TV.
By contrast, Netflix reaches 95% of U.S. households and Disney+ is expected to address 92% of the U.S. market, reaching a broader set of platforms and regions since they will be available on Android mobile devices. However, Disney+ will lack access to smart TV partnerships.
"With its limited device distribution, Apple TV+ will be accessible to just over half the online population in the U.S., thus hindering subscriber growth," Begum said. "Although Apple is the largest smartphone brand in the U.S. market and plans to offer free access with hardware purchases, the company would need to widen its device distribution to compete with OTT players that are now available nearly universally."