We are used to hearing about Defense Advanced Research Projects Agency (DARPA) vehicles and robots—but here is a really cool concept. The DARPA XS-1 is an airplane-like space vehicle that can fly to space, launch small satellites and launch space weapons at the edge of Earth's atmosphere. It can then return to earth, refuel, reload and zoom far out into space again.
Reusable robotics-flown space plane is DARPA's XS-1 program or Experimental Spaceplane 1 and Boeing is proceeding with the project.
Click here to view video on XS-1 DARPA Space Satellite Spy Drone Scheduled for 2019 .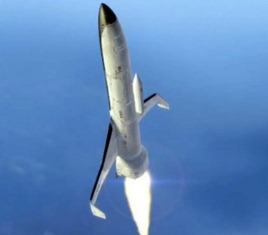 DARPA XS-1 Concept ArtThere is a lot of speculation as to the eventual role of the XS-1. Will it be able to fling weapons at the "enemy," be instrumental in national security, or just be a workhorse—a zoomy space delivery system?
The XS-1's focus is on getting to low earth orbit without any help to deliver payloads with speed. Based on a hypersonic propulsion system, it will reach speeds of Mach 10 and launch 3,000 to 5,000 pounds of payloads into orbit.
The first stage launches the XS-1 and flies it to suborbital space where it deploys an upper stage that can launch up to 5,000 pounds of payloads into low-Earth orbit. After the payload is launched, the spacecraft returns to Earth where it could be prepared for the next flight within 24 hours. However, the vehicle is not planned to be a manned vehicle.
The goal is for the design to be completed by August of 2016 and operate by 2019. Estimates are that the project will cost $6.6 million.
To contact the author of this article, email engineering360editors@ihs.com
Related articles:
Defense Sciences Office is Looking for Game Changing Technologies