According to the New York Times, it's the most powerful rocket currently operating in the world. This isn't something that NASA is developing – it's the Falcon Heavy, designed by SpaceX, and it's scheduled to launch today.
SpaceX is the company founded by South African-American business magnate Elon Musk, who has said that his ultimate goal in developing commercial space travel is sending people to Mars. That's still a ways off, but a successful launch of the Falcon Heavy would be a significant step in that direction.
The company developed its Falcon 9, on which the Falcon Heavy is based, as a reusable orbit-class rocket – something Musk views as key to reduce the cost of space access. The majority of the cost involved in launching a rocket comes from building the rocket itself. Until now, rockets have been built to fly just once, and burn up upon reentry into the atmosphere. By contrast, a commercial airline costs about the same amount to build, but can be flown tens of thousands of times. "If one can figure out how to effectively reuse rockets just like airplanes, the cost of access to space will be reduced by as much as a factor of a hundred," says Musk.
A successful re-flight of the Falcon 9 happened nearly a year ago, on March 30, 2017. Previously, the rocket was involved in other notable "firsts," including the first time a commercial company visited the International Space Station in 2012, and the first orbital-class rocket landing in 2015.
The Times calls the Falcon Heavy, "essentially a turbocharged version of the Falcon 9." Its most significant difference comes from the two additional boosters, which triples its thrust at liftoff and makes it capable of lifting payloads up to 64 metric tons (141,000 lb.) into low-Earth orbit. According to SpaceX, that's a mass greater than a 737 jetliner loaded with passengers, crew and luggage.
At press time, the rocket is sitting on the same Kennedy Space Center pad that launched the Apollo 16 in 1969, and the first flight of the space shuttle in 1981. The window for today's launch is scheduled from 1:30-4:00 p.m., with a backup date of tomorrow, Feb. 7, if the weather does not cooperate. Viewers can tune in for live webcast here.
As for the payload of today's launch? Musk's own cherry-red Tesla Roadster. If the launch is successful, the car will be sent into an elliptical orbit around the sun that extends as far out as the Red Planet - still SpaceX's ultimate destination. And that Roadster may remain in orbit for hundreds of millions of years; a small sacrifice for another of humankind's giant leaps.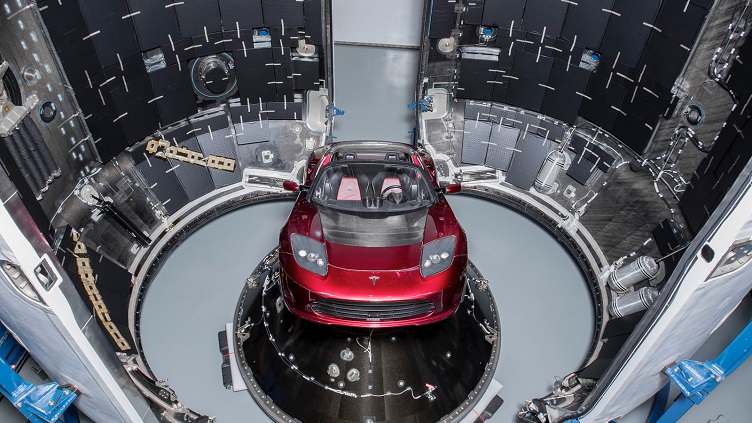 Payload for the Falcon Heavy launch: Musk's own cherry-red Tesla Roadster. Source: SpaceX.