Driven by a flood of new liquid crystal display (LCD) and active-matrix organic light emitting diode (AMOLED) panel manufacturing, flat panel display (FPD) equipment spending is expected to grow in 2015 for the third consecutive year, according to a new report from IHS.
IHS forecasts that the $9.1 billion in FPD equipment spending this year will be split nearly evenly along technology lines between amorphous silicon (a-Si) TV and low-temperature polycrystalline silicon (LTPS) smartphone plants. Specifically, LTPS investments will reach new time highs in both this year and in 2016.
Charles Annis, senior director of manufacturing research at IHS, says in a statement that after reaching a peak in 2016, LTPS spending will drop off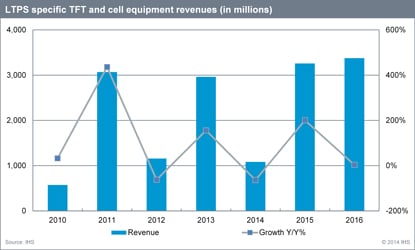 again in 2017, continuing the volatile pattern of the market over the past five years. Annis says that new fab plans for JDI in Japan and Foxconn in Taiwan, expansion of current lines at both Samsung and LG Display in Korea and new LTPS plants in China being built by AUO, BOE, Tianma and China Star are "generating unprecedented levels of LTPS equipment expenditures."
It is not just LTPS fab activity that is booming, either. IHS sees manufacturers continuing to invest in a-Si Gen 8 factories that are targeted at large-screen TV applications, mainly in China. The a-Si growth is mainly for large-area panels that is significantly outpacing capacity growth by 6%. As a result, investment in this segment is forecasted to grow by 14% in 2015, IHS forecasts.
However, there are concerns about growing TV inventories that may push prices down in the third quarter of this year, leading to large-area supply and demand to be balanced for the year.
Annis says that FPD investment activity remains dynamic in spite of concerns about a maturing TV market and the ability to ramp the new LTPS plants smoothly. As a result, he sees FPD equipment spending in 2016 "to be flat or slightly down." That said, BOE's decision to build a Gen 8 factory in Fuzhou and the first 10.5 fab in Hefei, China, indicates FPD manufacturers believe that building new facilities will lead to lower costs and expand their applications range, Annis says.
Interestingly enough, the increase in equipment spending comes at the same time that panel makers are trying to cut costs with some manufacturers replacing LTPS with oxide semiconductor substrates and by introducing multi-chip light emitting diode (LED) packages, RAM-less drive ICs, composite optical sheets and other measures.
Questions or comments on this story? Contact dylan.mcgrath@ihs.com
Related links:
Quarterly FPD Supply/Demand and Capital Spending Report
News articles: