Due to swelling inventories and high factory utilization rates, profit margins for large-area thin film transistor liquid crystal displays (TFT LCDs) are forecast to fall to 0% by the fourth quarter of this year, according to a new report from IHS.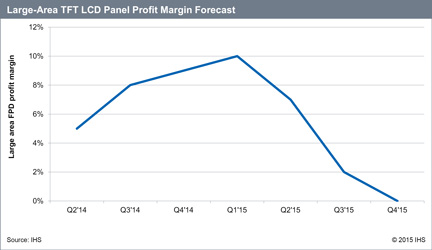 Profit margins for TFT LCDs is expected to fall from a five-year high in the first quarter of 2015 This is a major shift from earlier in the year when TFT LCD profit margins reached 10% in the first quarter—their highest level since the first half of 2010. Large-area TFT LCD displays have remained profitable since the end of 2012, but this year end-market demand for TVs, monitors, notebooks and tablets has weakened significantly, deteriorating the outlook for the market in 2015, IHS says.
"Despite declining demand, panel manufacturers have maintained high utilization rates well above 90% at their larger glass fabs since last year," says Charles Annis, senior director of flat panel display (FPD) manufacturing technology at IHS.
In order to chase as much profit as possible while they still can, panel manufacturers have opted to keep utilization high and minimize overhead costs. "The downside to this strategy is that panel inventories at set-makers have ballooned, widening the gap between TV panel shipments and TV set shipments," Annis says.
As a result of this excess inventory, as panels are sold down, prices will fall rapidly as well, IHS says. Large-area display profitability will likely follow the same trajectory while at the same time new Gen 8 factories will continue to ramp up production. IHS forecasts that large-area TFT LCD capacity will grow at a rate of 6% in 2015 and grow another 8% in 2016—the highest rates in several years.
"Growing concerns about the global economy and its effect on end-market demand—combined with high utilization rates, inventories at set makers

Charles Annis, senior director of FPD manufacturing technology at IHS.and increasing capacity—will likely weigh heavily on large-area display profit margins for the remainder of 2015 and even well into 2016," he says.
Questions or comments on this story? Contact engineering360editors@ihs.com
Related links:
Display Supply Demand & Equipment Tracker
News articles:
TV Shipments Take a Big Hit in Q2
Foldable Displays to Comprise 51% of Total Display Shipments by 2020
Displays for a New Generation of Electronics
In-Home Displays and Smart Thermostats: Large Installed Base, Low Revenues