Texas Instruments Inc. (TI) has introduced a trio of USB Type C chips in order to accelerate the move to a one-cable world.
USB Type C is the next-generation interface standard that guarantees up to 15 watts of power available for peripheral devices and supports legacy USB interfaces 3.0., 2.0 and 1.0. Type C also allows for alternate modes to be supported including four lanes for the DisplayPort interface without compromising the USB interface.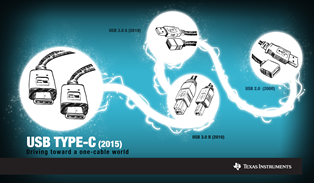 USB Type C supports legacy interface standards reducing the number of different cables needed for each interface. Source: TIMaybe the most important aspect to Type C for consumers is that the interface is "flippable", meaning it will allow for a bidirectional connection eliminating the confusion of previous USB interface generations where consumers had a 50/50 chance of plugging it in right for the first time.
"Type C solves all the problems that we used to have with USB 2.0 but maintains one very important aspect of USB 2 in that it just works," says Roland Sperlich, product line manager for high speed interfaces at TI. "The most ubiquitous interface in the world is known for the fact that you just grab a product with a USB connector and you plug it in and it just works. So Type C has to maintain this behavior."
TI's USB Type C semiconductor includes a power delivery (PD) controller, the TPS65982, for a complete USB interface power path and contain a port power switch that supports multiple power paths. The company has also introduced a USB Type C cross-point switch, the HD3SS460, which allows for alternate modes to distribute video through a single cable. Finally, TI's TUSB320 family allows for the introduction of USB Type C to devices already on the market for quick design reworks while still supporting previous interface standards.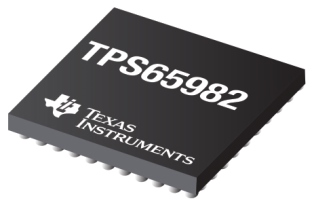 TIs TPS65982 USB Type C power delivery controller offers a complete power path and flip capability. Source: TISperlich says with USB Type C products in volume production now—including the three chips from TI—Type C-enabled consumer devices coming to market are just around the corner.
"[Companies] introducing a phone in the next couple of weeks or the next couple of months will have Type C," he says. "Any laptop that comes to market in time for the holiday selling season will have at least one Type C port. You will continue to see legacy ports in devices such as VGA and a USB 2.0 port but they will have Type C."
He says that because USB is so well widespread, it has jumped from personal electronics and computing to industrial system and industrial controls. Now, USB is making an impact in the automotive market where "you would be hard pressed today to find a vehicle that does not have a USB port inside the consoler or inside the arm rest," he says. As a result, the market for USB Type C products is filled with ample of opportunities for growth in current and future applications, something TI is counting on with its three new ICs.
The TPS65982 is in volume production priced at $4.99 in 1,000 unit quantities. The HD3SS460 is also in volume production priced at $1.55 and the TUSB320 is available for $0.95 all in 1,000 unit quantities. TI is offering an evaluation module and reference designs for all three semiconductors in order to accelerate the move to USB Type C in devices.
Questions or comments on this story? Contact engineering360editors@ihs.com
Related links:
News articles:
What is the Future for USB 3 in Machine Vision?
TI Expands Tool Set for WEBENCH
SigFox, TI Collaborate on Sub-1GHz IoT
TI Echoes Concerns Over PC Market