Pay TV operators bought $15.3 billion worth of set-top boxes (STBs) in 2014, a decrease from $15.9 billion in 2013. This decline represents the first contraction in the market since 2002, according to IHS.
Shipments of pay TV STBs grew slightly in 2014 to 204.7 million units, an increase of just under 1% from 203.1 million units in the previous year. The shipment growth failed to compensate for the effects of price erosion in this highly competitive market.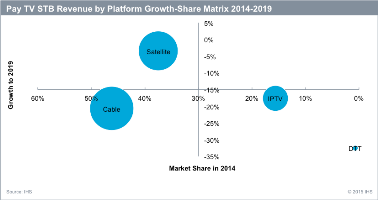 Pay TV STB Revenue by Platform Growth-Share Matrix 2014-2019. Source: IHS "Pay TV STB vendors have had a great run since 2002, with strong global pay TV growth, cable digitization mandates, the introduction of digital video recorders, high definition TV and Internet protocol TV all providing sustained stimuli for the market," says Daniel Simmons, head of connected home research at IHS Technology. "The industry is now at an inflection point." Mature pay TV markets are saturated with high-value advanced boxes, so shipments are set to decline there; and operators in emerging markets are not transitioning to advanced boxes fast enough to increase overall industry value,he says.
According to the latest IHS Set-Top Box Market Monitor report, there have already been several signs of increased STB consolidation in the first half of 2015, foreshadowing a declining market. For example, South Korea's Woojeon & Handan exited the market; Swiss vendor Advanced Digital Broadcast (ADB) delisted itself from the SIX Swiss Exchange for repositioning; U.K.-based Amino and U.S.-based TiVo have acquired pay TV software companies; and ARRIS, the global STB market leader in 2014, announced its intention to acquire Pace, the second-largest vendor by revenue.
The market will contract further in 2015, decreasing to $15.1 billion and will continue to decrease to $13.2 billion in 2018, before stabilizing in 2019, IHS says. Industry value will decline across nearly all segments, but the market for satellite pay TV STBs will sustain the most value and provide the most opportunity for vendors.
Unlike cable and IPTV, the majority of satellite operators are not Internet service providers, so they cannot virtualize traditional STB functionality, such as DVR, into the cloud as readily. Satellite operators will instead need to invest in STB hardware, to enable advanced services that can compete with those offered by cable and Internet-protocol TV (IPTV) operators. Pay TV will continue to grow in Africa and the Middle East, as well as in South and Central America, and will also provide STB opportunities over the forecast period.
"In light of future STB opportunities being mainly in satellite TV, and in Africa, the Middle East, South America and Central America, ARRIS's plan to acquire Pace makes strong strategic sense," Simmons says. "As well as making ARRIS almost three times the size of its nearest competitor, Pace is well positioned in key growth markets. It is the third-largest provider of satellite STBs globally and the second-largest provider of STBs in South and Central America."
With this consolidation, that will take place— other vendors will look to secure growth through acquisition and compete with ARRIS's new scale. Vendors that are strong in satellite STBs and emerging markets, such as Altech Multimedia, Humax, Sagemcom and Technicolor, could be key acquisition targets, he says.
The introduction of ultra-high definition (UHD) or 4K pay TV services could provide longer-term opportunity for STB growth. STBs in the current installed base cannot decode UHD video, so any operator looking to launch a UHD service will need to deploy new STBs. Many operators in South Korea and Japan have already launched UHD boxes and services, along with Tata Sky and D2H+ in India.
U.S. pay TV operators Comcast, DirecTV and Dish Network are also expected to launch UHD STBs this year. These launches will result in a total of $240 million worth of UHD STBs shipped to pay TV service providers in 2015. By 2019, UHD STB shipments to pay TV operators will be worth $5.4 billion and comprise 40% of the market's value.
"More aggressive UHD deployments by pay TV operators could help the set-top box market return to growth," Simmons says.