Increasingly, chips companies are seeing drones on their horizon.
Today, there are two extremes in drones: the ultra-sophisticated and expensive defense market (think Predator) and the low-end, low-price hobbyist and consumer market (think nerd toy). But that is changing fast. Increasingly sophisticated features at low prices as well as long-awaited proposed regulations from the U.S. Federal Aviation Administration (FAA) have analysts predicting strong growth in the sale of small unmanned aerial vehicles (UAVs), aka drones, in both the consumer and the commercial markets.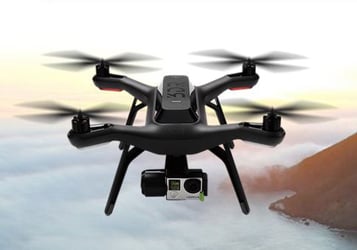 Solo, the smart drone. Source: 3D RoboticsSemiconductors and sensors that have been developed for consumer electronics, particularly smart phones and digital cameras, have ignited the drone market. According to research by the Consumer Electronics Association, the global market for consumer drones was forecasted to increase by 65% from 2014 to 2015 in numbers of units, to approach 425,000 units.
But the big growth may be in commercial drones. ABI Research predicts that the market for small UAVs will surpass $8.4 billion by 2018. It forecasts that by 2019 the commercial sector will dominate the overall drone market with revenues of more than $5.1 billion, several times larger than what ABI calls the prosumer and hobby market, according to a press release.
According to a report from the Association for Unmanned Vehicle Systems International (AUVSI), precision agriculture and public safety are the most promising commercial and civil markets. Precision agriculture refers to the ability of drones to measure a variety of things from the air, from soil moisture content to the number and health of corn stalks. While the report does not include a forecast for drone hardware, it estimates that commercial drones could add 100,000 new jobs and $82 billion in economic activity in the U.S. over the next decade.
"Unmanned aerial systems in agriculture have the potential to be a $3 billion market in just the first three years after the FAA opens the commercial airspace," says the report. "Over the next decade, this number will rise to almost $30 billion."
In February, the FAA finally published proposed draft regulations governing the commercial use of drones, which are expected to become final by 2017. (While consumer/hobby drones have always been allowed, it has been technically illegal to use drones for commercial purposes.) Many called the regulations too restrictive, primarily because they would limit flights to daylight hours, in sparse populated areas, at altitudes of less than 500 feet and within the line of sight of the drone operator. Since then, however, the FAA has relaxed some of those restrictions. In May, for example, the agency said it would allow three companies to test commercial drones that operate beyond their operator's line of sight. The companies are PrecisionHawk, a North Carolina company that uses drones for precision agriculture; BNSF Railroad to use drones to inspect its rail lines; and CNN, which will use drones for news gathering in populated urban areas.
Today, the major UAV vendors include DJI, a Chinese company expected to reach $1 billion in sales this year; Parrot in France; and 3D Robotics in
Inspire 1. Source: DJIthe U.S. Larger companies are trying their wings as well. Google bought drone-maker Titan and plans to start testing drones later this year. Amazon Prime Air plans to use its drones for package delivery.
Chips in drones
The chips used in drones are typically the microprocessor or microcontroller, which serves as the main control center for the drone; the integrated measurement unit (IMU)—usually of a combination of gyroscopes, accelerometers, magnetometers and pressure sensors—which helps the drone to orient itself in space and the camera chip for taking video. In many consumer drones, the camera function is handled as part of the microprocessor and so a separate camera chip is not needed.
Depending on which chip vendor is talking, they refer to drones as either "flying smartphones" or "flying cameras."
Qualcomm definitely falls into the first category. Starting at the Consumer Electronics Show (CES) in January, the company has promoted its Snapdragon processor for drone designs. The highly integrated Snapdragon, originally developed for mobile phones, packs a lot of functionality into a small, lightweight package, and its functions can be easily tweaked to a drone's requirements. The Snapdragon Cargo—a prototype drone that Qualcomm demonstrated at CES—uses the Snapdragon 600, parts of which were slightly "repurposed," says Chad Sweet, director of engineering at Qualcomm Technologies Inc. The processor's camera capability was programmed to generate synchronized stereo images that would allow the drone to measure depth and thus detect obstacles in its path. The applications processor was programmed to enable real-time flight control.
Qualcomm has not publicly announced drone design wins yet, but "we are certainly collaborating with companies to enter this market," says Sweet. Earlier this year, it bought drone maker KMel Robotics, which specializes in drones. Qualcomm also led a $50-million round of investment in 3D Robotics.
Ambarella, which specializes in camera SOCs with video and image compression, falls into the second category. Its primary market has been in in security cameras and sports cameras (GoPro is a customer). Then, DJI designed Ambarella chips into its Phantom line of drones 18 months ago. Although it is a new market for Ambarella, sales have "really, really taken off," says Chris Day, Ambarella's vice president of marketing and business development. "It's not just a niche. We think by the end of this year, it'll be significant."
Parrot's bebop drone. Source: ParrotAmbarella's SOCs produce better quality video than what most microcontrollers or applications processors can, says Day. Ambarella chips produce high quality video in very low light conditions and incorporate "dewarping" technology that can correct distortions from wide-angle lenses, allowing for better discrimination of detail, he says. They also have frame rates as high as 60 frames per second, enabling smoother video of fast-moving events like sports. He says that high end functions like that can tax applications processors, which often have to do many other functions as well. "We are focused on doing one thing very, very well."
Intel is another company that has shown interest in the drone market, at least for its camera chips. At CES, it demonstrated a prototype drone incorporating Intel RealSense cameras, which enable depth perception so drones can detect and avoid obstacles.
ST Microelectronics provides all three types of components: microcontrollers, IMUs and camera chips, says Mahesh Chowdary, director of strategic platforms and the Internet of Things at the company. But while the company does have a reference design for drone makers, Chowdary is less bullish about the market, at least in the near future. "It's still in the early adoption phase," he says. "When it comes to realizing the complete potential of drones, indications are that it will be two to five years before we see a serious market."
Questions or comments on this story? Contact dylan.mcgrath@ihs.com
Related links:
IHS Industrial, Security & Medical Technology
News articles:
Qualcomm DevBoard Goes Raspberry-Pi Route
MWC Offers Glimpse Into Mobile's Future
Russian Fabless Startup Applies Some Imagination
Industrial Chip Growth to Slow in 2015