While big name companies were busy hyping up this year's latest and greatest mobile phones, tablets, apps and services to the more than 85,000 people wandering the halls of the main Mobile World Congress (MWC) event, down the street a more intimate gathering of startups, venture capitalists and industry observers was focused on what lies ahead for the industry.
MWC's parallel show, (Four Years From Now), offered glimpses into innovations bubbling up in the business-to-consumer and business-to-business segments as the Internet of Things shifts the way people think about mobile.
Some future ideas will come from space – literally.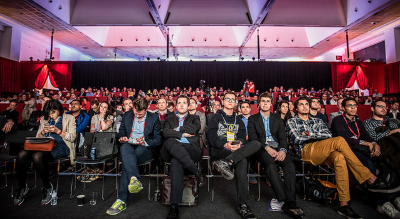 Audience watches the action on stage at the Four Years From Now event, co-located with Mobile World Congress. Image: Dan Taylor/Heisenberg Media - www.heisenbergmedia.com/ All Rights Reserved
"When people think about space technologies, they think about sending rockets to the moon and space missions. But space technology is everywhere in our world, and we use it every day," said Jorge Fuentes, who works for Barcelona Activa and is manager of the European Space Agency Business Incubation Centre in Barcelona (ESA BIC).
Global navigation positioning, satellite imaging, durable and temperature-resistant materials used in satellites and mission-critical algorithms are some of the space-related technologies and developments that can be used today for terrestrial applications. But more can be done on the commercial side, Fuentes said.
ESA BIC, one of 11 space-related incubators in Europe, helps startups turn space-related technology prospects into viable non-space businesses and applications, Fuentes said. For instance, DAPCOM Data Services, one of the companies in the incubator, is using fully adaptive prediction error coder (FAPEC) — a patented lossless data compression algorithm originally created for space communications — to process and move large data sets typically used by scientific research, supercomputers or companies that need to manage big data. Hemav, another startup in ESA BIC, is developing drone technology, and one targeted application is to help argiculture better use aerial visual data to understand and improve crop and soil health.
Other companies at the 4YFN show are looking to build on circular economy concepts being discussed globally. Finland-based Circular Devices Oy, as an example, is taking an open hardware approach to address the increasingly problematic issues associated with recycling and reusing billions of mobile devices heading towards obsolescence in shorter periods of time.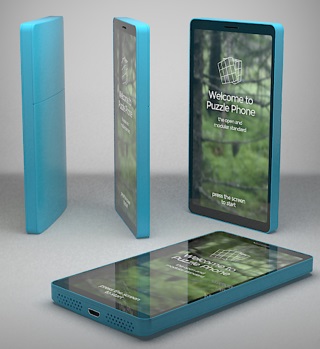 Prototype model of PuzzlePhone from Circular Devices.
Circular Devices' PuzzlePhone, currently in prototype production, uses Click ARM, a modular hardware and firmware platform developed by ImasD Technologies in cooperation with Samsung Electronics. The phone is built on three main modules — an LCD module containing the main buttons, speakers and microphone; an electronics packet for key electronics that can be developed according to certain specs; and a battery and secondary, configureable electronics packet. The point of the phone is "to recycle the irreparable, repair the repairable and change the interchangeable," according to its website.
"Every year, we have more mobile phones coming to market," Circular Devices' CEO Alejandro Santacreu said during a workshop session. "But, because all the big guys in the industry are working on their next smartphone and because smaller manufacturers don't have the resources, many of these phones will be obsolete in shorter periods of time because no one will be working on firmware updates for these phones."
"This is happening all across the mobile supply chain," Santacreu said. "How we can better use open hardware to solve this issue is important."
Back at the main MWC venue in the Connected Living hall, the European Union's Sunseed research project is bringing together telecommunications operators and energy utilities to create more secure communications networks for smart grids, said Hervé Ganem, a system architect at Gemalto NV.
"The utilities have to decide how to balance demand and predict use levels. Telecommunications companies have the M2M communications ability to collect the data utilities need. The question is, 'What can you do with this data and how it can be disseminated in a secure way between parties?'," Ganem said. He added that the three-year project will focus on secure networking authorization permissions.
Questions or comments on this story? Contact Jennifer.baljko@ihs.com
Related links: