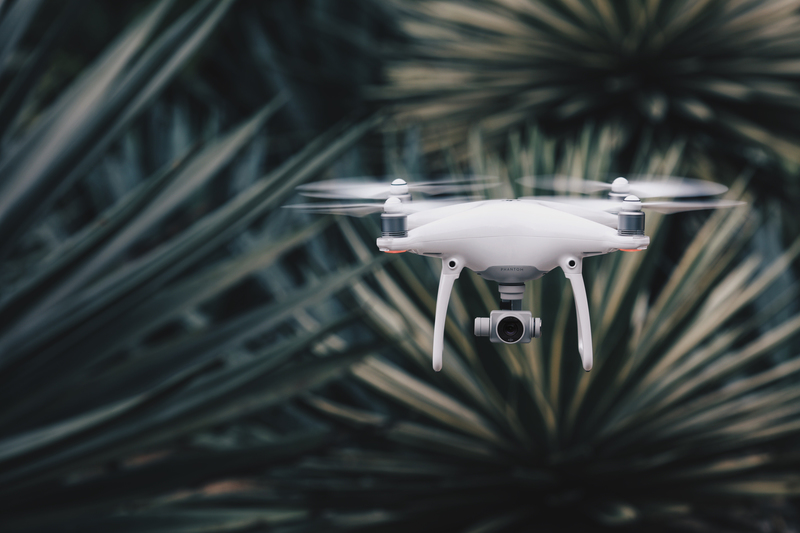 Commercial drones come in a variety of shapes and sizes, each with a varying degree of different technologies inside. Source: DJIUnmanned aerial vehicles (UAVs), more commonly known as flying drones, have captured the imagination of consumers with a new way to enjoy the outdoors, participate in races or to take cool, innovative aerial photography.
Photography has become so popular through drones that companies have create dedicated drones to actually capture the consumer's fascination with taking pictures. Known as selfie drones, these small UAVs are generally smaller, lighter and less complex devices that have the ability to float above a consumer and are controlled via a smartphone. Some even allow for automated following.
As technology evolved and drones began to be more complex, drone use grew and now the market is seeing a wave of drones being used for delivery of parcels, consumables, medical supplies and even construction materials. Drones are also being used for gathering information or supplying intelligence about disasters (such as the floods in Houston last year), geographic mapping of terrain or locations that are hard to reach, safety inspections, crop monitoring, law enforcement and border control surveillance and storm tracking.
And the uses are likely to grow moving forward as technology evolves. In fact, market research firm IHS Markit forecasts the global drone market to be worth nearly $8 billion by 2020.
All of these drones have different purposes and uses but many of them share commonalities in terms of what makes them work. Where they differ is the technology included in the drones that are expected to do more than just fly. A drone used for aerial photography won't have the same equipment or technology as a drone built for geo-mapping or surveying.
On the Outside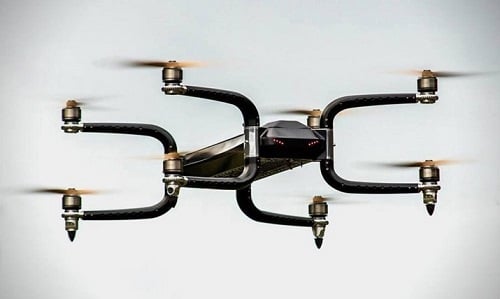 Industrial drones, such as this heavy load carrying drone, can be used in construction. Source: Griff Usually the parts found on a commercial drone includes propellers, motors (more often brushless), boom, the main body, camera, GPS, antenna and a handful of sensors. Industrial drones, on the other hand, include improved technologies of these common parts such as better cameras and sophisticated sensors.
Each propeller assembly generally includes the blade, a gear, a motor and a motor controller board. There are hundreds of different varieties of propellers in the world each made of different properties including plastic, wood, carbon fiber or some other composite materials such as glass fiber. The better the material, the more expense the propellers get.
Wood propellers are generally used for racing drones and bigger multicopters and tend to be smaller so they are paired with smaller motors. Plastic propellers are generally found on cheaper, retail versions found in big box chains such as Wal-Mart, Target and other locations. Carbon fiber propellers produce less vibration due to their stiffness and a stronger than plastic or wood. Typically these propellers are used in industrial workplaces and come larger in size in order to carry more equipment for the tasks they are asked to perform.
In terms of the camera, the more expensive commercial drones can shoot in 4K video and take 12 megapixel photos. But these are generally the top-of-the-line gear and it will cost a pretty penny. Early drones didn't have these capabilities shooting in HD or less and cheap drones if they have a camera at all barely can accomplish even basic photography.
In 2017, a rise of drones equipped with optical and digital zoom cameras emerged optimized for still photography and creating a greater range where these photos or videos could be taken. Drones with optical or digital zoom can range from 2x all the way to 18x depending on the model. Not surprisingly, these types of cameras have been widely adopted in the industrial sector where zooming in on different locations is a necessity for garnering information.
This is where selfie drones are different from regular commercial drones in that they often have better cameras and cameras that can recognize the structure of the face because that's their one and only function. While the rest of the selfie drone is cheap in terms of the parts used, the camera generally is above-average. These also tend to be controlled via a smartphone or tablet rather than a dedicated controller.
On the Inside
Commercial and industrial drones generally include the same types of internal components including electronic speed controllers, flight controllers, receivers, lithium-ion batteries and more. Where they differ substantially is in the functions of industrial drones where more advanced sensors and technology is a must.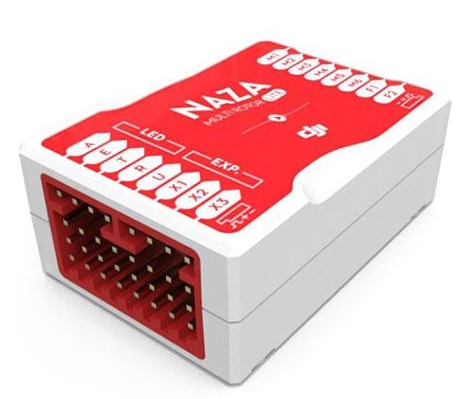 A typical flight controller found in drones. Source: DJIThe flight controller is the small circuit board found inside the drone that varies in complexity depending on drone use and the technology inside. Commands from the pilot to the UAV determine how to manipulate the motors. Microcontrollers, memory, wireless modules and serial port connectors are generally found on the board to operate the drone as well as a variety of microelectromechanical systems (MEMS) sensors that can range from simple gyroscopes to barometers for automatically holding altitudes.
The gyroscopes are used to give the drone a smooth flight and is essential for navigation information that is sent to the flight controller. Inertial measurement units (IMUs) detect the rate of acceleration using accelerometers and detect changes in pitch, roll and yaw also detected through a gyroscope.
Virtually all drones use lithium-ion batteries for power and again it depends on what type of drone and what task they are doing that determines battery life. Simple, cheap off-the-shelf drones only last as little as 10 minutes whereas higher-quality drones can be in the air for 30 minutes. Industrial drones generally feature the best battery life in the air lasting up to an hour in some cases. While many drone manufacturers offer secondary or back-up batteries, these can cost a consumer upwards of $100. Drone battery life is one of the major challenges that is currently being worked on by various researchers and drone manufacturers.
For industrial drones, many come equipped with highly specialized technology depending on the task. This can include visible-light, near-infrared, infrared, multi-spectral and hyper-spectral sensors, LiDar, collision avoidance technologies and more.
These technologies are being used for 3D modeling of buildings or locations, data discovery on growing crops, shrubs and trees, monitoring of planetary objects such as volcanoes, measuring volumes, outdoor and indoor navigation for delivery and surveying or mapping of pipelines, construction zones or scouting of new locations.
Obstacle avoidance technology is being used for virtually all of the segments inside the industrial space but also being used for deliveries of goods to consumers and healthcare providers as these UAVs must navigate through often crowded streets or landscapes that are actively changing. Vision systems use detection sensors to scan the area while software produces images as 3D maps allowing the flight controller to sense and avoid the object. While many drones are currently operated by humans, the hope is using this technology the process will eventually be automated.
So what's next for drone technology: "I expect to see lots of improvement in technologies starting with improved batteries regarding both charging time and battery life," Stelios Kotakis, senior research analyst at IHS Markit tells Electronics360. "Also real time collision avoidance technology will be a must, especially in high-end professional drones. I also believe combination of artificial intelligence, 3D printing and other technologies will help drone parts become cheaper."