The global industrial semiconductor market is expected to increase by 7% in 2015 to about $43.2 billion, according to IHS. This moderate growth will come after a strong increase of 18 percent in 2014, when the market reached $40.4 billion, according to the market research firm.
The reduced growth in 2015 is due mainly to slowed growth in memory, logic and analog products used in building and home control, military and civil aerospace, and test and measurement, IHS says. With a steady global economy in the long term, IHS expects the industrial semiconductor market to achieve 6% compound annual growth rate (CAGR) between 2014 and 2019.
At this rate, the IHS Industrial Semiconductors service shows the industrial sector to remain the top application-revenue driver for the semiconductor industry over the period.
The growth of the industrial chip market in 2014 was considerably higher than IHS had predicted in November 2014 (see Industrial Chip Market on Pace for 13% Growth). The growth of 18% was due to a gradual acceleration in the global economy, led by the U.S. and China, driving demand for industrial products, IHS says.
This resulted in the strongest growth since a 36% recovery-driven boom in 2010. Subsequent to that, the industrial chip market had shown 12%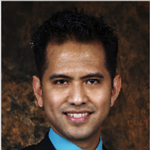 Robbie Galoso, principal analyst IHS Technology.growth in 2011, a decline of 3% in 2012 and 13% growth in 2013.
The growth was broadly based, but especially strong "in products used for factory automation control, commercial avionics, LED lighting, digital internet-protocol cameras, climate control, renewable energy, traction, wireless application-specific testers and oil and gas exploration equipment," says Robbie Galaso, principal analyst with IHS Technology in a statement.
Top 10 Company Ranking
Texas Instruments maintained its strong position as the largest industrial semiconductor supplier in the world, followed by STMicroelectronics and Infineon Technologies. Micron Technology and ON Semiconductor both came into the top-10, displacing Maxim Integrated Products and Cree.
Micron's progress was due to a product-longevity program that encouraged industrial engineers to design in its memory components. "Micron's product longevity program continued to grow quickly in 2014, which helped the company become the undisputed global industrial memory chip supplier," says Galoso. ON Semi was boosted by additional revenue from its acquisition of Aptina, a vendor of CMOS image sensors for the industrial market.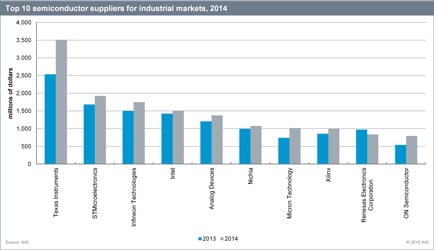 Top 10 semiconductor suppliers for industrial markets in 2014 ranked by revenue (in millions of dollars). Source: IHS Mergers and acquisitions are expected to continue, which will further affect vendor rankings. "Infineon and NXP will soon upgrade their positions among the top semiconductor suppliers in 2015, due to their acquisitions of International Rectifier and Freescale Semiconductor, respectively," says Galoso.
Infineon, enlarged by the acquisition of International Rectifier, would generate $2.3 billion in annual industrial semiconductor revenues, which is likely to put the combo in second place. NXP-Freescale is set to leap into sixth spot in industrial chips, immediately behind Analog Devices.
Out of the top 10 companies, only Renesas Electronics suffered a decline in 2014, as the Japanese semiconductor market and suppliers continue to struggle.
By product type, optical semiconductors showed the strongest performance in 2014, thanks to the LED lighting market. Other product types in demand include: discrete power transistors, thyristors, rectifiers and power diodes—due to policy drives toward energy efficiency and microcontrollers, because of power efficiency and digital control.
Questions or comments on this story? Contact: peter.clarke@ihs.com
Related links and articles:
IHS Industrial Semiconductors service
News articles: