A powerful group of companies – including Google, through its Nest Labs subsidiary, Samsung Electronics, Freescale Semiconductor and ARM Holdings plc – have joined together to form the Thread Group and to launch Thread, an IP-based wireless networking protocol.
Others of the founding seven companies are Yale Security, Silicon Labs and Big Ass Fans, which was founded in 1999 and makes industrial, commercial and residential ceiling fans.
The mission of the Thread Group is to create a secure, low-power network for use in the home and by its connected products. Thread is already defined as an IPv6 networking protocol designed for 802.15.4 mesh networks and a version of Thread is already used in Nest products. It is based on 6LoWPAN, which stands for IPv6 over Wireless Personal Area Networks. The 6LoWPAN group has defined encapsulation and header compression mechanisms that allow IPv6 packets to be sent to and received from over IEEE802.15.4 based networks.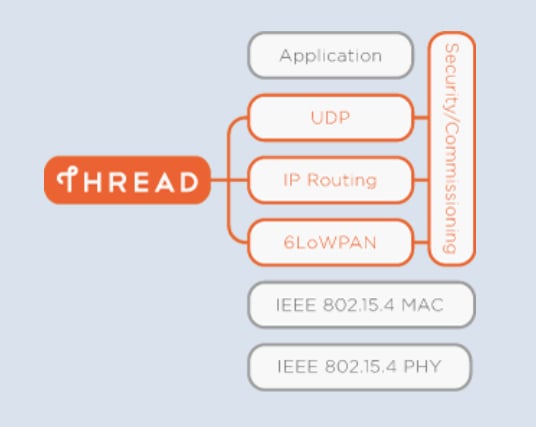 Security and applications on a 6LoWPAN platform. Source: Thread Organization.
Google acquired Nest Labs (Palo Alto, Calif.), a small startup, earlier this year for approximately $3.2 billion. Nest had been founded in 2010 to create domestic heating, ventilating and cooling controls with Internet connections and a simple elegant controls. The company was founded by Tony Fadell, CEO, and Matt Rogers, vice president of engineering, and both executives had a pedigree of having worked at Apple on the iPod with its iconic circular touch wheel control interface.
It is also notable that Nest announced on June 20 that it had agreed to acquire Dropcam, a home surveillance provider, in a strategic decision to add home surveillance to its smart home portfolio.
Thread Group states that while other 802.15.4 networking technologies are available they have a disadvantage of being predominantly based on "hub-and-spoke" hierarchical communications which means that if the hub device fails the whole network fails. They also often lack the ability to carry IPv6 communications and have relatively large current draw that could drain battery operated devices.
The Thread protocol is a mesh protocol that connects more than 250 devices and provides Internet access for every device. Being a mesh protocol that routes information by hopping across multiple devices, the network is not necessarily crippled if any one device fails.
"Existing wireless networking approaches were introduced long before the Internet of Things gained ground," said Vint Cerf, vice president and chief Internet evangelist, Google, and advisor to the Thread Group. "The Thread protocol takes existing technologies and combines the best parts of each to provide a better way to connect products in the home."
"A number of networking solutions and platforms have been introduced to address the growing demand for connected products in the home," said Lisa Arrowsmith, associate director, connectivity, smart homes and smart cities, IHS Technology. "Built on well-proven standards, including IEEE 802.15.4, IETF IPv6 and 6LoWPAN, Thread represents a resilient, IP-based solution for the rapidly growing Internet of Things."
Marketing and certification
Although the Thread Group is open to new members, either as sponsors or contributors, the press statement from the group indicates that much of the protocol is a done deal. Now that the group has gone public it seems that work left to do is focused on education, marketing and certification. There will be a Thread logo to provide consumers with an assurance about quality, security and interoperability.
The protocol already includes "banking-class encryption" and is a software-only addition to existing 802.14.5 networks that allows users to add and remove suitably equipped products to the network via smartphone tablet or computer.
The emphasis on security is well placed not least because of recent relevations about the ease at which a current generation of Internet-connected light bulbs have been hacked.
Context Information Security Ltd. (London, England) has detailed how it was able to hack into a smartphone-controlled network of LIFX lightbulbs from LiFi Labs Inc. of San Francisco. That network makes use of a mesh protocol based on 6LoWPAN and WiFi connection intended to link to a domestic wireless router.
Context has shown how it could take control of an LiFX network, by performing some reverse engineering on purchased bulbs and using that information to inject packets into another mesh network, capture the WiFi details and decrypt the credentials, all without any prior authentication or alerting the network of presence. Context does make the point that if has shared its findings with LiFi Labs and subsequently worked with them to help provide a fix to this specific issue, along with other further security improvements.
And Nest has not been without its own hiccoughs, although these were more issues of functionality rather than design.
In April 2014 Nest said it had disabled a gesture recognition feature that was part of its Nest Protect smoke and carbon monoxide alarm and suspended sales of units while it found a fix for a problem. The problem was that a wave gesture used to silence the alarm could be delay the alarm going off during a fire.
Which all goes to show that digital networking of previously dumb domestic mechanical and electronic products needs to be carefully thought through.
Related links and articles:
Hacking Internet Connected Light Bulbs
News articles:
Companies Pin Hopes on the Internet of Things
Intel, Samsung Form Group to Take on Qualcomm in IoT
UK Joins SigFox's Global IoT Network Play