Samsung has developed a range of printed circuit boards (PCBs) and associated software under the name Artik to support the development of applications for wearable equipment and the Internet of Things (IoT).
Initially, Samsung is offering three PCBs of different sizes—from 12mm by 12mm up to 29mm by 39mm—loaded with computer resources to help address applications in the enterprise, industrial and consumer sectors. Samsung is also offering an IoT software stack, development boards and tools, drivers, security features and cloud connectivity.
The initiative has been put together to be Arduino-compatible on the development side and with partners including SigFox SA (Labege, France) and Smartthings (Palo Alto, Calif.) on the connectivity and cloud software side.
While the boards are small enough to be attractive for wearable and IoT applications, whether they prove popular with developers is an open question, according to Lee Ratliff, principal analyst for connectivity and IoT at IHS Technology. Ratliff notes that there are already many developer boards available from many sources— Arduino, Raspberry Pi, Creator and so on—and that the field is crowded with suppliers vying for developers' attention.
"The Artik boards seem fine, but developers actually care less about the hardware and more about the software development tool chain and especially the community of users," Ratliff says. "They want cheap, easy-to-use tools. They want to be able to find an answer to any question at any time, just by doing a Google search or checking a user forum."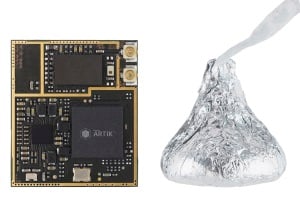 Samsung's open, small form-factor Artik IoT module.Samsung has also instituted an alpha program for the developer kit that will provide access to hardware and technical support and allow developers to talk to the Artik product team to receive assistance and provide feedback. Registration for the alpha program closes May 31.
Under this program, the development kits are available for free. Samsung declined to put a price on the development reference board.
As for the Artik boards themselves, a Samsung spokesperson says they will be less than $10 for the smallest, Artik 1, and less than $100 for the largest, the Artik 10.
"The software is all based on open source and available through our partners for free," the spokesperson says.
MIPS Rather than ARM for Lowest Power
The smallest board—the Artik 1—provides a MIPS-compliant dual core processor and runs the Nucleus operating system. The board is aimed at power-sensitive applications and includes a 9-axis motion sensor with gyroscope, accelerometer and magnetometer, as well as Bluetooth low energy connectivity. ­­
The Artik 5, measuring 29mm by 25mm, is powered by a dual-core Cortex-A7 processor at up to 1GHz clock frequency and runs the Yocto 1.6 Linux operating system. It supports Wi-Fi, Bluetooth and ZigBee communications.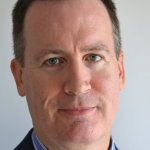 Lee Ratliff
The Artik 10, the largest of the boards, includes an octo-core ARM big-little processor with four Cortex-A15 cores and four Cortex-A7 cores operating at up to 1.3GHz and includes the Mali T628 MP6 GPU for graphics and also provides Yocto 1.6. All three boards have secure element processing.
"We are providing the industry's most advanced, open and secure platform for developing IoT products," says Young Sohn, president and chief strategy officer at Samsung Electronics, in a statement. "By leveraging Samsung's high-volume manufacturing, advanced silicon process and packaging technologies, and extensive ecosystem, Artik allows developers to rapidly turn great ideas into market leading IoT products and applications."
The Artik boards are small and very dense, which could make them attractive for wearable applications, Ratliff says. But he adds that developers often prefer hardware that is easily hackable with modest skills and tools.
"The Artik boards are too advanced, too dense for easy hacking," Ratliff says. "This may show a lack of understanding by Samsung of the developer community or it may show that they intend the boards to be used primarily by developers with resources—corporations, not garage hackers."
Questions or comments on this story? Contact: peter.clarke@ihs.com
Related links and articles:
IHS Connectivity and IoT Research
News articles: