Information technology company Fujitsu Ltd. (Tokyo) has developed an end-to-end platform for the provision of Internet of Things (IoT) services. The system, known as Ubiquitousware, includes sensors, microcontrollers, wireless communications and cloud-based software to analyze collected data.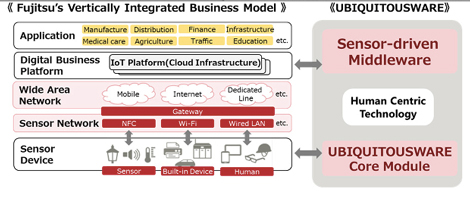 Overview of Fujitsu Ubiquitousware approach to IoT. Source: Fujitsu.Applications for Fujitsu's initial approach include location and vital-signs monitoring for senior citizens, agricultural workers, industrial workers and even pets, the company says.
The first example of a device embedded with Ubiquitousware is a head-mounted display. Location badges, vital-sign sensing bands, and other products will be rolled out at the beginning of December. The company has begun field-testing of Ubiquitousware with customers and is working towards deployment of the system across the Fujitsu Group.
Ubiquitousware software comes in two complementary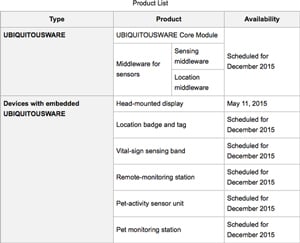 Products being developed by Fujitsu for IoT. Source Fujitsu. variants. Core modules reside in "leaf nodes" such as consumer equipment and work with sensors, microcontrollers and wireless communications to analyze sensor data close to the point of collection. The core module software can work with sensors commonly found in many products—such accelerometers, gyroscopes, barometers and microphones found in smartphones. These core modules work in a tandem with the second variant of Ubiquitousware, middleware that analyzes data in the cloud.
Sensed data is analyzed using what Fujitsu calls a human-centric engine that converts the data into information that can be acted upon, such as fall detection or body posture detection. Ubiquitousware will be available as a package of software modules that can be installed in existing devices and systems, Fujitsu says in a statement.
Fujitsu will also offer devices embedded with Ubiquitousware such as vital signs wrist bands, location badges and tags to enable customers to achieve fast deployments.
Three trials of the technology are getting underway. The first is with farmers in Japan, the second is patient location and tracking in the South Ostrobothnia hospital district in Finland, and a third trial will deal with employees from Fujitsu Network Solutions Ltd.
Questions or comments on this story? Contact: peter.clarke@ihs.com
Related links and articles:
IHS Connectivity and IoT Research
News articles: