In what would be the largest acquisition in semiconductor industry history, Avago Technologies Ltd. will buy rival chip vendor Broadcom Corp. in a $37 billion cash and stock deal that would result in a combined company worth $77 billion and rank sixth in the world in total semiconductor sales.
"This is the latest and, by far the largest, merger in the semiconductor industry, as major players continue to move in an aggressive way to establish position and profitability in key segments of the industry," said Dale Ford, vice president and chief analyst for IHS Technology.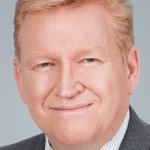 Dale Ford
Avago (Singapore) says the acquisition, already approved by both companies' boards, is expected to close in the first quarter of 2016. The deal is subject to customary closing conditions, including shareholder approval and regulatory review.
The plan calls for the combined company to operate under the name Broadcom Ltd. Hock Tan, Broadcom's president and CEO, is expected to serve as president and CEO of the combined company. Henry Samueli, Broadcom's co-founder, chief technical officer and chairman, will serve as CTO of the combined company and also sit on its board.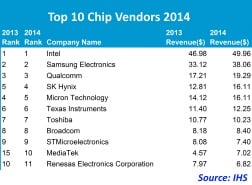 Sales of about $15.1 billion would rank the combined company sixth in overall chip sales.The combined company will have about $15.1 billion in annual revenue. This revenue level would have ranked the combined company sixth overall in semiconductor sales in 2014, behind SK Hynix and ahead of Texas Instruments, according to IHS. Excluding memory chip revenue, the combined company would be the third-largest semiconductor supplier—trailing only Intel and Qualcomm.
Strength in Communications ICs
The acquisition would merge two firms with strength in communications ICs. Broadcom markets digital chips for applications including cable and DSL modems, small cells, ultra-high definition home gateways, digital cable and satellite set-top boxes as well as Wi-Fi, Bluetooth and network switch technologies. Avago sells analog and mixed-signal chips wireless communications, wired infrastructure, enterprise storage and other markets.
"The complementary product portfolios of the two companies move them into a powerful position, in both the communications IC market and the storage IC market," Ford says.
The merged Avago-Broadcom would be the second largest supplier of communications ICs—trailing only Qualcomm—with a market share of roughly 14%, according to IHS. The combined company would control about 40% of the wired communications IC market, excluding memory, with 2014 revenues that were more than five times larger than the next largest supplier, Intel, according to IHS.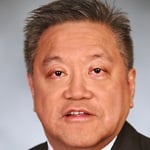 Hock Tan
The merged company would also hold about 8% of the wireless communications IC market, ranking fourth behind Qualcomm, Samsung Electronics and MediaTek, according to IHS.
The acquisition would be the latest in a string of large semiconductor firm mergers announced in recent months. It would be the largest deal in this latest wave of consolidation, eclipsing the $11.8 billion that NXP Semiconductors agreed to pay for Freescale Semiconductor in March.
In a conference call with analysts to discuss the deal and Avago's second quarter results, Tan described the two companies' product lines as highly complementary. He said he believes the combined company will not have to divest any business units to appease regulators.
"We are both fairly substantial companies in the semiconductor space, but the overlap is zero," Tan says.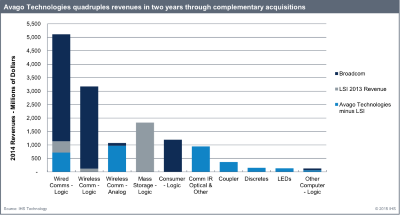 Under the terms of the deal, Avago would pay Broadcom shareholders $17 billion in cash and about $20 billion worth of Avago stock. Broadcom shareholders would hold about 32% of the combined company.
IHS notes that Broadcom is also one of the major players in wireless charging semiconductors and a member of three related technology alliances: the WPC (Qi), PMA and A4WP (Rezence). Avago is not a player in the wireless power market. This market will be worth an estimated $1.7 billion in 2015 but is forecast to grow to nearly $15 billion by 2024, according to David Green, research manager, for power supplies and wireless power at IHS.
Henry T. Nicholas, who founded Broadcom along with Samueli and served as a past CEO of the firm, will also join the combined company, serving in a strategic advisory role and reporting to Tan.
Questions or comments on this story? Contact dylan.mcgrath@ihs.com
News articles: