In yet what would be another series of mega deals happening in the electronics industry, PC giant Dell has made an offer to buy storage maker EMC for a whopping $67 billion in what would be the largest technology acquisition of all time.
Dell is partnering with two investment houses, MSD Partners and Silver Lake, in order to complete the transaction. The combination of the companies will create the largest privately-controlled technology company in the world with product offerings targeted at servers, storage, virtualization and PCs as well as other areas such as digital transformation, software-defined data center, hybrid cloud, converged infrastructure and mobile and security, Dell says.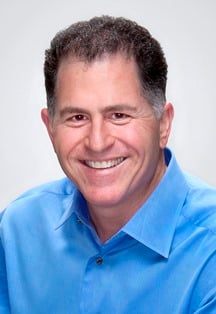 Michael Dell, chairman and CEO of Dell Michael Dell, chairman and CEO of Dell, says in a statement that the merger will create an "enterprise solutions powerhouse" and a company that is "well-positioned for growth in the most strategic areas of next generation IT."
The merger is expected to close between May and October of 2016 with Michael Dell continuing to lead the company as chairman and CEO. Joe Tucci will remain as the EMC CEO and chairman until the closing of the transaction. There are no other expected changes happening to top executives, Dell says. There are no immediate plans for layoffs related to the deal and the combined company will have three technology hubs in Austin, Texas, Silicon Valley and in Massachusetts, the company says.
Dell buying EMC will continue a string of mega-deals that have occurred in the semiconductor and electronics industry in the last 12 months including Nokia buying Alcatel-Lucent for $17.3 billion, Intel's acquisition of Altera for $16.7 billion, Avago's $37 billion deal for Broadcom, NXP's $11.8 billion buying of Freescale, the Cypress-Spansion deal for $4 billion and most recently the deal that saw Dialog Semiconductor make a grab for chipmaker Atmel for $4.6 billion.
Questions or comments on this story? Contact engineering360editors@ihs.com
Related links:
IHS Compute, Servers & Storage
News articles:
Dialog to Acquire Atmel for $4.6 Billion
Intel to Buy Altera for $16.7 Billion
Avago to Acquire Broadcom for $37 Billion
NXP to Buy Freescale for $11.8 Billion