NXP Semiconductor NV is set to buy Freescale Semiconductor Inc. for $11.8 billion to create the world's seventh largest chip company with about $10 billion in annual sales.
The deal, which has been approved by the boards of directors of both companies, is described as a merger, but shareholders of Freescale (Austin, Texas) will hold about 32 percent of the combined company after closing. Rick Clemmer, president and CEO of NXP (Eindhoven, The Netherlands), will continue in the same role with the enlarged company. It is expected that the Freescale name will disappear and the business will be known as NXP Semiconductors.
The merger is set to produce the global leader in automotive semiconductors and in general-purpose microcontroller sales. Clemmer emphasized that the ability to add NXP's security technology to Freescale automotive, communications processor and microcontrollers would be a source of value creation.
Dale Ford, vice president of semiconductors and components at IHS Technology, said the merger would create a company that is strongly positioned and capable of offering "complete automotive semiconductor solutions to all high-growth segments," including infotainment, ADAS, and connectivity "as well as the new frontiers represented by in-vehicle security and hybrid and electric vehicles."
Ford noted that, combined, the two companies had automotive semiconductor revenue of nearly $4 billion in 2014, which would have topped Japan's Renesas Electronics Corp., the leading automotive chip supplier.
NXP and Freescale were both formed by controversial private equity buyouts from more vertically integrated companies that took place in the last decade. NXP was previously the semiconductor division of Philips and Freescale was created by the buyout of the Motorola Semiconductor Products Sector.
NXP and Freescale were both loaded with considerable debt by the private equity groups that helped form them, and each companies' progress was disrupted by the general economic crisis at the end of the last decade. However, in recent years both companies have made progress in focusing on core strengths and business sectors and in achieving higher growth than the general market.
In a conference call organized to discuss the merger, Clemmer said the aim was for the combined entity to be able to grow revenue at 50 percent more than the broader semiconductor market. So, for example, if the chip market grows at 6 percent, the target for the enlarged NXP would be to grow at 9 percent or more.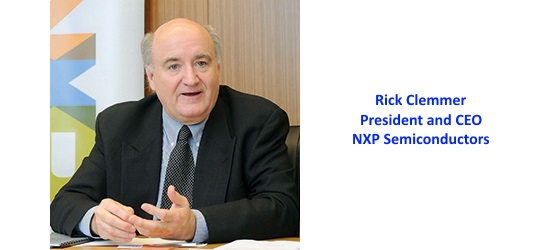 NXP had annual sales of about $5.65 billion in 2014 and was ranked the 14th largest chip vendor in world last year, according to IHS Technology. Freescale was ranked 17th largest chip vendor in 2014 and had annual sales of $4.63 billion. The combined sales of the two firms would have ranked seventh in 2014, ahead of Toshiba and behind Texas Instruments.
One of the motivations for the merger is to achieve cost-savings through economies of scale. NXP said it anticipates achieving cost savings of $200 million in 2016, the first full year after the transaction closes, with a "roadmap" to annual cost savings of $500 million.
Under the terms of the deal, NXP will pay $11.8 billion made up of about 115 million NXP shares and $2 billion in cash. This will provide a total enterprise value of about $16.7 billion, including Freescale's net debt. NXP is funding the deal with $1 billion in cash from its balance sheet and $1 billion in new debt. The transaction is expected to close in the second half of 2015, but is subject to approval of both NXP and Freescale shareholders and regulatory approvals in various jurisdictions.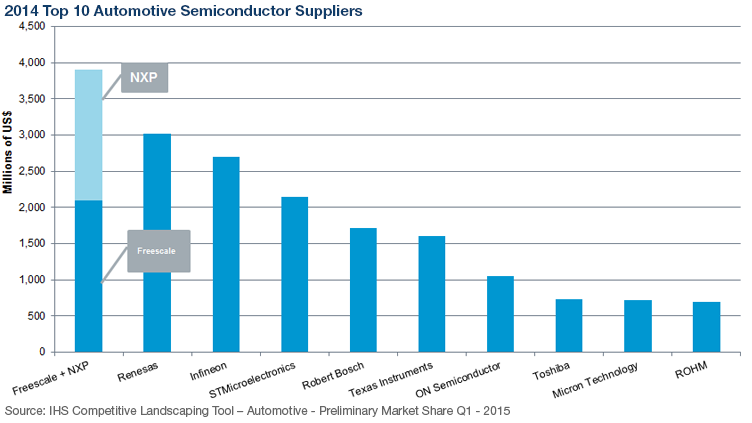 "Both of our companies are strategically aligned and have very similar cultures," said NXP CEO Clemmer on the conference call.
"The two companies complement each other and can provide better and more comprehensive solutions. We're coming from strength and success and the two companies are firing on all cylinders," said Freescale CEO Gregg Lowe on the same call.
Although NXP and Freescale may be seen as similar companies—fab-lite going fabless, serving the automotive, industrial and communications infrastructure markets—the detailed overlap is comparatively low. Lowe said that the merger would double the served available market and there was only about a 10 percent overlap across the whole of the two companies' product portfolios.
"The merger brings together two companies that have complementary semiconductor portfolios in several segments, as well as overlapping areas," Ford said. "The broader portfolio will consequently strengthen both companies' position in the automotive semiconductor market, while overlaps create some internal hurdles."
Ford also noted that the merger would result in fewer choices and second source suppliers for buyers in the electronics industry.
Clemmer said the merging of the two businesses would accelerate NXP's strategy of providing "secure connections for a smarter world." Smarter world is NXP's terminology for the Internet of Things.
When asked on the call about Freescale's processor capabilities and the degree of fit with NXP, Clemmer said: "We've been trying to get off the technology treadmill.…It's not as direct a strategic fit as some areas." However, Clemmer dismissed the possibility of dropping some sectors of Freescale's business.
Still, in the area of high-performance radio frequency (RF), there is overlap and some concern that the dominant position the merger would create might attract regulatory scrutiny. "We will dispose of the NXP high-performance RF business to facilitate regulatory approval," said Clemmer. He added that NXP has already started discussions with a couple of potential purchasers. High-performance RF was responsible for less than 10 percent of NXP revenues in 2014, Clemmer said.
Clemmer concluded the conference call saying: "This is a game-changing combination to drive a power house in the semiconductor industry."
Questions or comments on this story? Contact peter.clarke@globalspec.com.
Related links and articles:
IHS Technology Semiconductors & Components Page
News articles: