In yet another mega-deal in the semiconductor market, Analog Devices Inc. (ADI) has agreed to acquire Linear Technology, creating a giant analog vendor with anticipated annual revenues of about $5 billion.
The $14.8 billion cash and stock transaction deal will result in a combined company that will be an analog leader across many product lines, including data converters, power management, amplifiers, interface RF and microwave products.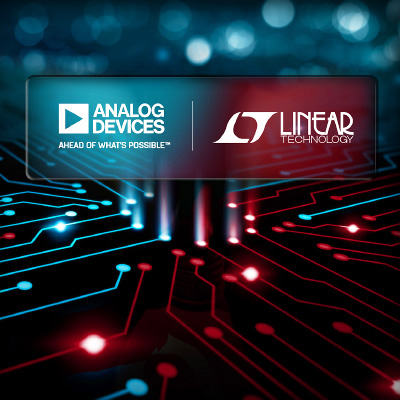 The combination of companies will result in an analog leader that will be able to address growth opportunities in the industrial, automotive and communication markets. Source: ADI ADI says the combined company will have complementary product portfolios and expand ADI's total addressable market to $14 billion from $8 billion. The combination will also result in the acceleration of innovation in the analog market and enhance growth opportunities in the industrial, automotive and communications infrastructure markets, the company says.
"The combination of Analog Devices and Linear Technology brings together two of the strongest business and technology franchises in the semiconductor industry," says Vincent Roche, president and CEO of Analog Devices. "Our shared focus on engineering excellence and our highly complementary portfolios of industry-leading products will enable us to solve our customers' biggest and most complex challenges at the intersection of the physical and digital worlds. We are creating an unparalleled innovation and support partner for our industrial, automotive and communications infrastructure customers, and I am very excited about what this acquisition means for our customers, our employees and our industry."
Following the close of the transaction, Roche will remain the president and CEO of the company. David Zinsner, senior VP and CFO of ADI, will continue to serve in that role in the combined company.
When ADI completes the deal for Linear, it will be one of the latest in a string of mega-deals in the semiconductor and electronics industry that has recently included the SoftBank acquisition of ARM, Dell buying EMC for $67 billion, Nokia buying Alcatel-Lucent for $17.3 billion, Intel's acquisition of Altera for $16.7 billion, the $19 billion deal for SanDisk by Western Digital, Avago's $37 billion deal for Broadcom, NXP's $11.8 billion purchase of Freescale and many more.
To contact the author of this article, email engineering360editors@ihs.com