The announced merger of Freescale Semiconductor Inc. and NXP Semiconductor for $11.8 billion has important implications from a buyer-side perspective.
When Renesas and NEC merged, many companies were left looking for another second source supplier, and they turned to Freescale and NXP. Now, with the merger of these two companies, there are pluses and minuses. First, the combined company should have greater resources to devote to support the significant pick-up of customers they took from Renesas/NEC when they went looking for another second source. But, second, the industry consolidation just became that much greater meaning as there are fewer viable alternatives of major suppliers for vendors to choose from.
The new company will become the seventh largest semiconductor supplier overall based on our preliminary market share data for 2014. Both companies started to outperform the overall market during the past two years prior to the merger announcement (2013 to 2014). Before that the growth for each company was below overall market growth since at least 2008.
Automotive Strength
Furthermore, the newly merged company will be strongly positioned and one that is able to serve complete automotive semiconductor solutions to all high-growth segments. These segments include infotainment, advanced driver assistance systems (ADAS) and connectivity as well as the "new frontiers" represented by in-vehicle security and hybrid and electric vehicles.
In terms of market share, the NXP-Freescale merger will produce a company with a turnover of a $4 billion in 2014 in automotive chip revenues, at least $1 billion ahead of the next supplier, Renesas.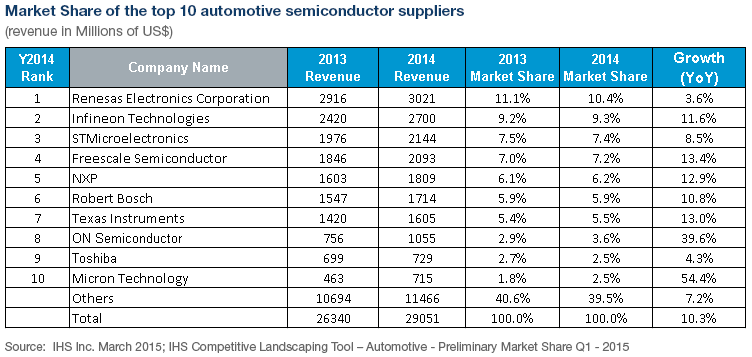 The merger brings together two companies that have complementary semiconductor portfolios in several segments, as well as overlapping areas. The broader portfolio will consequently strengthen both companies' position in the automotive semiconductor market, while overlaps create some internal hurdles. But most of all, buyers in the electronics industry now have fewer choices and second source suppliers.
The merged entity could rapidly target autonomous driving systems (Automatic Emergency Braking, Adaptive Cruise Control & etc.) by making use of Freescale ICs. NXP could now emerge as a dominant supplier for vehicular wireless communications (V2X) using Freescale's secure processor solutions and the former's DSRC based wireless chipsets. NXP, leading in the Infotainment segment thanks to its ASSPs, as well as networking and discrete components, will consolidate the leadership with Freescale family of advanced processing units.
Questions or comments on this story? Contact peter.brown@globalspec.com
Related links:
IHS Semiconductors & Components
News articles: