Audio streaming helped revenues for recorded music in North America and Western Europe to rise for the first time since 2010, according to a new report from IHS Technology.
Streaming of audio music only garnered 2 percent of the revenues in 2010 but in 2014, streaming represented 20 percent of all revenues in the regions driven by subscription revenue from Spotify and Deezer as well as advertising revenue from Pandora.
Overall revenue for recorded music is set to continue to expand slightly in the coming years rising to $13 billion by 2018, up from $12 billion, IHS forecasts. This growth will continue to be derived from the continued shift in consumer adoption of streaming services.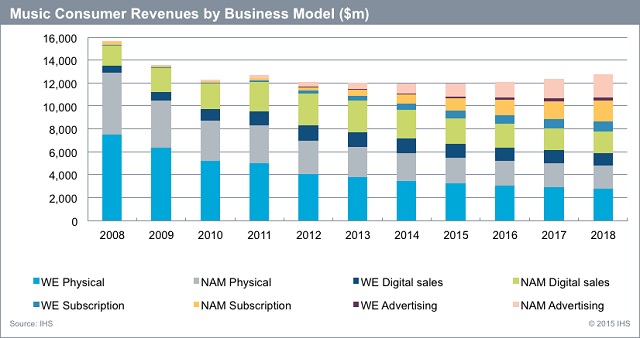 Dan Cryan, director of digital at IHS, said in a statement that Western music markets are undergoing tectonic shifts after the landscape "changed from MP3 players to smartphones." In order to succeed, music services must "compete, not just with each other, but with new forms of entertainment" including video and phone-related apps that have become competitive, he said.
Cryan added that the record business must embrace these new models in order to "stay relevant to consumers" and find ways to promote subscription services in order to make money.
Another interesting trend, IHS found, was in the rise of YouTube as a major music platform accounting for more than half of the on-demand music market in 2014 of 85.3 billion streams in the U.S., up from 57.1 billion streams in 2013.
Questions or comments on this story? Contact dylan.mcgrath@ihs.com
Related links:
IHS Broadband Media Intelligence Service
News articles:
Sony's Hi-Res Walkman Doesn't Address All Limiting Factors to Audio Playback
Intel Shipping Streaming TV Stick
The Internet of Things and Its Web of Connectivity