Global shipments of wirelessly-connected audio speakers and soundbars are set to exceed 50 million units in 2015, up from 37 million units in 2014, according to IHS Technology.
The pace of uptake is about at its peak right now and will level off at just under 70 million units in 2017, according to IHS. Shipments are projected to fall back to about 66 million units in 2018, the market research firm predicts.
The size of the market has increased dramatically since 2010, when just 1.5 million units were shipped, IHS said. This growth in shipments—which includes wireless speakers, wireless soundbars and connected audiovisual receivers—has been driven by the increasing proliferation of mobile devices with Bluetooth and Wi-Fi capability.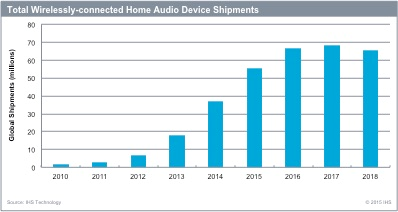 Total wirelessly-connected home audio device shipments. Source: IHS, March 2015.
Annual shipments of connected audio products, including wireless speakers, wireless soundbars, and connected AV receivers, are expected to grow at a compound annual growth rate (CAGR) of 88 percent from 2010 to 2018, but slow to a more modest CAGR of 15 percent for the period from 2014 to 2018, according to IHS.
"Growing penetration of tablets and smartphones—combined with an ongoing shift in consumer media consumption preferences toward those devices and streaming services such as Spotify, Pandora, and Deezer—are collectively driving a behavioral shift in how people listen to music inside and outside their homes," said Paul Erickson, senior analyst for IHS Technology, in a statement.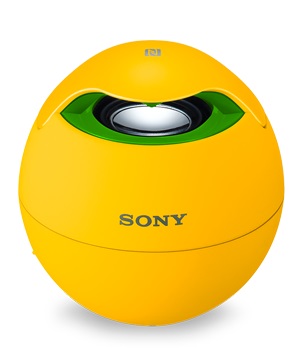 Sony's SRS-BTV5 wireless speakers offer 360 Circle Sound technology and connect via Bluetooth.Erickson said that Samsung, LG, Sony, Bose, Denon, DTS and Qualcomm are all entering the market with products or platforms for network-connected multi-room speaker systems, a product type popularized by Sonos.
The networked multi-room speaker system could be the fastest growing sub-market of all if marketing campaigns from major consumer electronics companies Sony, Samsung, and LG, drive large-scale mainstream exposure and traction for this previously niche segment of the audio market.
"Over the next few years, wirelessly connected audio—and in particular network-connected speakers—will render the traditional wired audio system an obsolete concept for consumers," Erickson said. "Wireless multi-room audio systems will soon be what comes to consumers' minds when they think about home audio."
Questions or comments on this story? Contact: [email protected]
Related links and articles:
News articles: