Samsung has at long last released its first Tizen smartphone, the Z1, which has gone on sale in the Indian market priced at 5,700 rupees (about $90). It's a 3G/2G phone with a 4-inch screen and modest camera specifications but it could be many Indian users' first smartphone and help build a position for Tizen in emerging economies.
The move is expected to be followed by more Tizen dependence on Google's Android operating system. Samsung has previously said that both Android and Tizen could co-exist in its portofolio but it seems inevitable it will favor Tizen, which grew out of Samsung open-source research over Google's Android. However, Tizen faces an uphill battle to compete against the long-established first mover advantages held by Android and the walled garden of Apple's iOS.
Tizen was announced in September 2011 as the brainchild of the Linux Foundation and the LiMo Foundation as a plan to develop an open-source mobile device software place and, essentially, reinvent what search-engine giant Google had done with Android.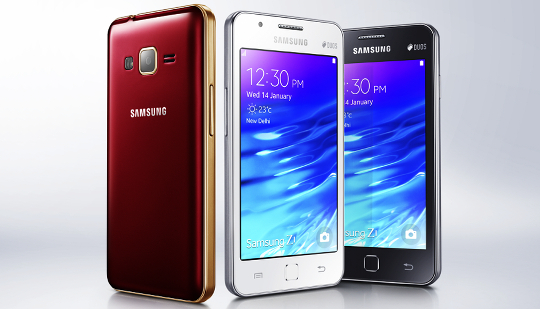 Looks like Galaxy on Android but is Z1 on Tizen. Source: Samsung.
Like Android Tizen is based on Linux and like Android it is intended to support multiple device categories including smartphones, tablet computers, wearable equipment, smart TVs, and in-vehicle infotainment systems. Unlike Android very little has been heard about Tizen over the last three years which appears to have been the subject of several delays.
Samsung did deploy the Tizen operating system in its Galaxy Gear smartwatch in May 2014 and has announced its 2015 line up of smart TVs will run Tizen but the operating system has not been deployed in a mass-produced smartphone until now.
The LiMo Foundation was renamed the Tizen Association at the beginning of 2012 and it is controlled by a board of directors drawn from Samsung, Intel, Huawei, Fujitsu, NEC, Panasonic, KT Corp., SK Telecom, Orange, NTT Docomo and Vodafone.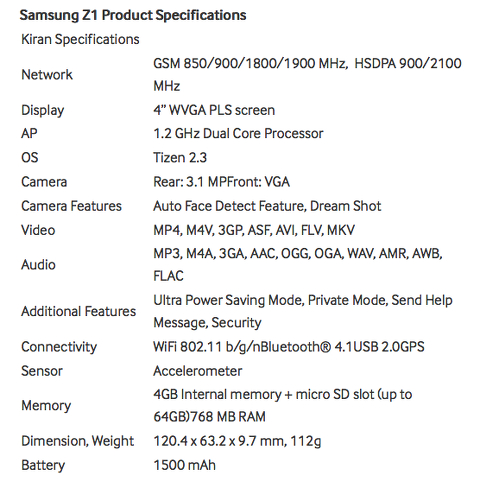 Samsung Z1 specifications. Source: Samsung.
The Samsung Z1 comes with Tizen version 2.3 and the operating system is described as "lightweight" and which thereby confers a number of benefits, including faster boot time, faster page loading, descreaded data usage. Samsung does not state what they are comparing against but the implication is a similar Samsung Android phone. Certainly the phone is run on a relatively modest 1.2-GHz dual-core processor – reported to the Spreadtrum SC7727S which is a dual-core Cortex-A7 processor with Mali400 graphics processing unit.
The phone has a 4-inch WVGA screen and cameras are low resolution at 3.1 megapixel for the rear camera and VGA for the front camera.
Overall the unit is designed to bring an affordable smartphone to Indians that may previously have had only an ordinary mobile phone. Such users are not heavily invested in Google apps and to try and entice users in even more Samsung has bundled the phone with a wide range of free entertainment content spanning across categories such as music, movies, videos, mobile TV and radio. Samsung will launch a free entertainment package called 'Joy Box', giving users access to music, TV and movies. In addition, the Samsung Z1 will offer consumers free access to premium content available on Club Samsung. Users can stream and download from over 270,000 songs, and watch over 80 live TV channels.
"The smartphone market in India is rapidly evolving, with many consumers using their device as their screen of choice for content including videos, television programs and video games, as well as a range of apps," said Hyun Chil Hong, CEO of Samsung India Electronics, in a statement. "We have customized the Samsung Z1 to meet these unique, entertainment-focused needs of local Indian consumers for a personal and reliable mobile experience."
Questions or comments on this story? Contact dylan.mcgrath@ihs.com
Related links and articles:
News articles:
Allwinner to Address Linux, Open-Source Issues
Indian Startup Tips Wearable Processor Family