Well-connected startup Ineda Systems Pvt. Ltd. (Hyderabad, India) has revealed details of its Dhanush family of wearable processor units (WPUs) and announced funding of $17 million raised from Samsung, Qualcomm and established investor Imagination Technologies Group plc amongst others.
Ineda, founded in 2010, has been developing a system-on-chip low-power processor based on MIPS and PowerVR cores licensed from Imagination and suitable for wearable applications such as smart watches, health monitors, and fitness devices as well as the Internet of Things.
Industry veteran Dasaradha Gude leads the company as CEO. The board of directors includes Lip Bu-Tan, CEO of Cadence Design Systems Inc., and Krishna Yarlagadda, president of Imagination Inc. Yarlagadda was CEO of Hellosoft before it was acquired by Imagination Technologies in 2010. The board is chaired by Sanjay Jha, a former COO of Qualcomm and now CEO of Globalfoundries Inc. The company was founded by Balaji Kanigicherla, who now serves as CTO.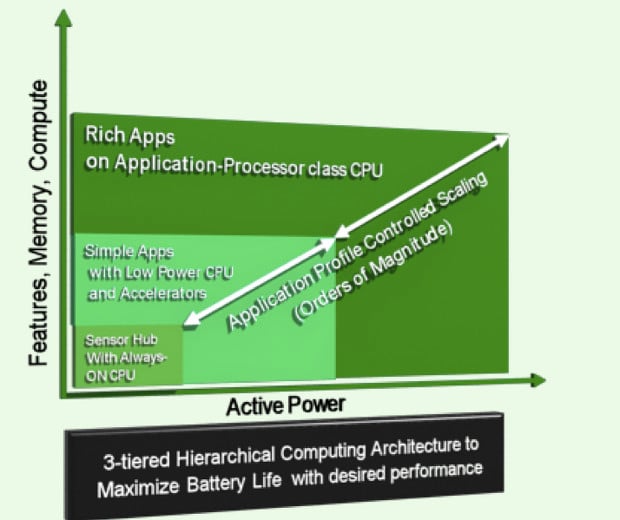 From sensor-hub only up to graphically rich apps. Ineda advocates running software at the level of performance for which it is optimized. Source: Ineda.
As well as revealing its latest round of funding the company has announced the Dhanush WPU, which makes use of something Ineda calls hierarchical computing. Ineda plans to begin producing its WPU in the second half of 2014 and said it will offer multiple SoC variants that correspond to specific classes of wearable devices. Development kits are available for evaluation today for selected customers.
The hierarchical computing architecture, implemented using MIPS-based microprocessor cores and PowerVR mobile graphics and video processors, enable the Dhanush WPU to offer an always-on battery life of up to one month.
The Dhanush family of SoCs also supports a scalable range of connectivity from Bluetooth LE through Bluetooth and Wi-Fi to address a range of applications.
Hierarchical computing allows applications and tasks to run at various optimized performance and memory footprints. At the lowest level is an "always-on" sensor hub optimized for wearable devices, which can be used to wake the processor up and step up through levels of performance and power consumption.
Ineda illustrates this with the example of a three-layer hierarchy while its family of products deploy one, two and three-level hierarchies Dhanush.
The Dhanush WPU family consists of products – Nano, Micro, Optima and Advanced – which are designed for specific applications and product segments. Each of these products will aim to provide 30-day always-on battery life, up to 10x power consumption reduction compared to the current generation of application processors and be available at consumer price points.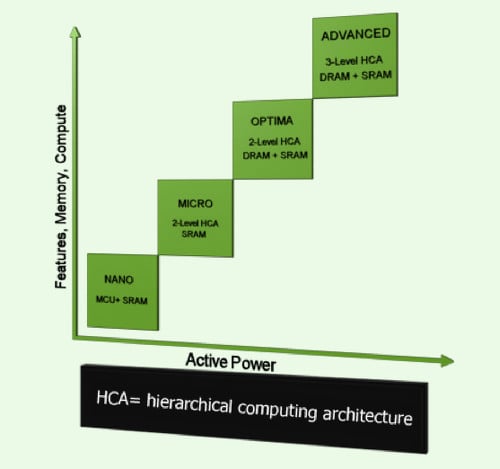 Four Dhanush SoCs will offer different degrees of hierarchical computing. Source: Ineda.
In 2012 Ineda was already reported to have 150 engineers with plans to recruit 50 more and to launch three products in 2013. The company didn't quite get to launch in 2013 but it does have four SoCs on its roadmap.
"The Dhanush family of WPUs offers better power consumption by an order of magnitude than smart phone processors that are currently being retrofitted for wearable devices," said CEO Gude, in a statement. "The smart phone market grew substantially with the advent of smartphone-specific dedicated application processors. Dhanush WPU SoCs will enable a similar transformation in the wearable market segment," Gude added.
The Dhanush Advanced provides features for a high-end wearable with a rich graphic and user interface and the ability to run a mobile class OS such as Android. The Dhanush Optima is a subset of the Advanced lacking only the ability to run a mobile OS. The Dhanush Micro is designed for low-end smartwatches and includes the sensor-hub subsystem but not the full graphics and user interface while the Dhanush Nano is a microcontroller-class device for simple wearables.
The Series B investment was led by Walden-Riverwood Ventures and includes co-investors Samsung Catalyst Fund, Qualcomm Incorporated, through its venture capital arm, Qualcomm Ventures, IndusAge Partners and others.
Sanjay Jha retained chairmanship of Ineda when he took the CEO's post at Globalfoundries. Can Globalfoundries now win the Dhanush business?
"With its industry-first WPU technology and world-class management team, we are confident that Ineda Systems will be able to meet the long battery life and high performance requirements in the wearables market," said Sanjay Jha, Ineda Systems chairman and CEO of Globalfoundries.
Related links and articles:
News articles:
Intel Ignores History With Wearables Buy
Wearables to Add $70 Million to Battery Sales by 2018
CES: Intel Launches Processor for Wearables
A Bright Outlook for Wearable Technology and Remote Patient Monitoring