The European Commission (EC), the administrative and executive body of the 28-nation European Union (EU), has taken the first step towards antitrust action against Google, which could cost the search engine giant up to 10% of its annual revenues in a fine. That would be about $6.6 billion based on Google's 2014 revenue of $66 billion.
The EC has announced that it has sent a Statement of Objections to Google,alleging the company has abused its dominant position in general Internet search services in Europe to favor its own comparison shopping sites—Google Shopping and its predecessor service Google Product Search—in search results. The Commission says that its preliminary point of view is that this breaks European antitrust rules because it stifles competition and harms consumers.
"Google now has the opportunity to convince the Commission to the contrary. However, if the investigation confirmed our concerns, Google would have to face the legal consequences and change the way it does business in Europe," says Margrethe Vestager, EU Commissioner in charge of competition policy, in a statement.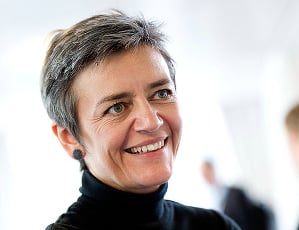 Danish politician Margarette Vestager, European Commissioner for Competition since November 2014.
Google has ten weeks to respond to the Commission's allegations and to then seek a formal hearing.
Android Too
Google has led development of the Android mobile operating system since 2005. Although Android is an open-source system, meaning that it can be freely used and developed by anyone, the EC observes that the majority of smartphone and tablet manufacturers use the Android operating system in combination with a range of applications and services that are proprietary to Google.
Vestager says, "I have also launched a formal antitrust investigation of Google's conduct concerning mobile operating systems, apps and services."
There are three allegations under investigation: whether Google required or incentivized smartphone and tablet computer makers to pre-install Google's own applications or services exclusively; whether Google prevented customers from creating modified and potentially competing Android "forks;" and whether Google has illegally hindered the development and market access of rival applications and services by bundling its own applications and services with Android.
Wheels of justice
However, European antitrust investigations tend to move slowly. In a previous landmark case, Microsoft eventually paid a €561 million fine ($601 million) in 2004, resulting from an investigation that had begun in 1997. Similarly, Intel eventually was compelled to pay a fine of €1.06 billion (about $1.4 billion) in 2014 that was imposed in 2009 and based on antitrust rulings over the way Intel used sales channel rebates to hinder competition between 2002 and 2007.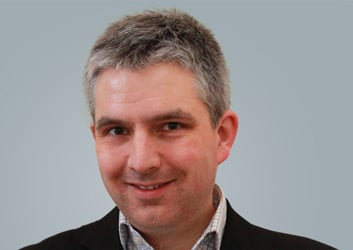 Ian Fogg, senior director of mobile & telecoms research at IHS"It could take some time to come to a conclusion but in the interim, Google could tweak its approach to the market," says Ian Fogg, senior director, mobile & telecoms at IHS Technology. "With regard to the Android investigation, there are Google proprietary apps that are pre-installed as a single package including: Google Play, Chrome, Google Maps, the Android Keyboard, Gmail."
Fogg continues, "Globally there are 2.2 billion Android devices in use and 1.3 billion have Google services installed. The vast majority of those devices without Google services are in China. In Europe, Android smartphones represent 67% of mobile devices almost all of which include Google Play Services. This scale means any intervention by the EU will be significant for a very large number of consumers, devices and for very many OEMs."
"There is a parallel with Microsoft and the default inclusion of the Internet Explorer browser. But across platforms, Apple, Google and Microsoft now all pre-install applications. If the European Commission decides there is an issue with doing that with Android, there could be implications for Windows and iOS which all extend across multiple platforms. That could be a very significant move with far-ranging repercussions," says Fogg.
Meanwhile, the EC is already investigating Google with regard to other aspects of its search results, specialized search services and concerns regarding copying web content and for seeking to impose advertising exclusivity and other restrictions on advertizers.
An internal memo that was reportedly distributed within Google was published on the re/code website. In the memo, an unknown Google executive says that the investigation is "very disappointing news." The memo includes graphs that purport to show shopping site competition in Germany, France and the UK with Google Shopping somewhere down in the middle of the pack.
"We have a very strong case, with especially good arguments when it comes to better services for users and increased competition," the memo states.
Questions or comments on this story? Contact: peter.clarke@globalspec.com
Related links and articles:
IHS Mobile Devices and Networks Research
News articles:
Google Ventures Launches $100 Million Fund for Europe
Samsung Releases Tizen Phone, Opens Platform War
Google Glass Said to Run Too Hot
Google Launches Smart Home IoT Protocol