Processor intellectual property licensor Imagination Technologies Group plc has joined together with several fabless chip companies to form prpl, a collaborative non-profit foundation chartered with delivering open-source software and resources for the MIPS processor architecture.
Qualcomm Atheros uses MIPS cores for Wi-Fi chipsets and Qualcomm is among the participants in prpl which also include: Broadcom, Cavium, Ikanos, Ineda Systems, Ingenic, Lantiq, Nevales Networks and PMC. The foundation has an initial focus on enabling next-generation 'datacenter to device' portable software and virtualized architectures. However, Prpl is not limited to supporting the MIPS 32-bit and 64-bit architectures and is "open to others."
Imagination (Kings Langley, England) said that Qualcomm intends to focus on networking initiatives around carrier-grade OpenWrt, which is one of five initial working groups within prpl.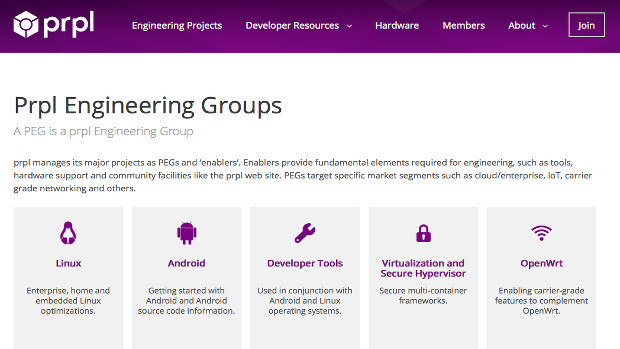 From the prpl website: five initial engineering tasks.
Prpl has marked similarities to Linaro, which was formed in 2010 and is a collaborative organization in support of ARM licensees that provides free and open-source software such as the Linux kernel, compilers, power management and graphics and multimedia interface definitions. Although Linaro started with a charter in mobile applications supporting Android the charter was expanded to include servers and the Internet of Things in 2012.
The strength of the Linaro group means that ARM is unlikely to be one of the "other" architectures that Prpl will begin supporting although support of heterogeneous architectures – where multiple processor architectures share work on a single system-chip does present a challenge in this area. However, it is notable that Broadcom, Cavium and Qualcomm are founding members of Prpl as well as being established contributors to Linaro.
"Partners that wish to join prpl can do so even if they use Imagination IP alongside other IP cores, developed internally or licensed from other suppliers," said a spokesperson for Imagination.
Prpl will initial target the data center, networking, the digital home and embedded/IoT applications and provide Linux operating system distributions for MIPS that include Android, Arch Linux, CentOS, Chromium OS, Debian, Fedora, Gentoo, MEOS (MIPS Embedded OS), Montavista, OpenWrt, Redhat, Tizen, Ubuntu, WebOS and Yocto. There will also be an open source code bank for: LLVM, kernel, UEFI and GCC.
"The commitment and support we have seen since our acquisition of MIPS in 2013 has been impressive and prpl will focus and develop a valuable strand of that support to deliver outstanding benefits for users, and compelling ROI for members," said Hossein Yassaie, CEO of Imagination in a statement. "As part of our commitment to community, and consistent with our agnostic approach to IP, the prpl foundation will be supportive of heterogeneous architectures."
An announcement of the management and board of directors at prpl is expected in the coming weeks.
Java on MIPS and PowerVR
At the same time as launching prpl Imagination announced a collaboration with Oracle Corp. (Redwood City, Calif.) to enhance the Java programming language for the MIPS architecture and to help it address embedded and IoT applications.
Oracle and Imagination are working together to bring the Oracle JDK (Java Development Kit), Oracle Java SE Embedded, and other product support to MIPS32 and MIPS64 systems. In addition, the two companies will be working to improve how Java runs on systems using Imagination's PowerVR graphics.
Oracle has been trying to drive the suitability of Java down towards light clients since its acquisition of the language with Sun Microsystems and made a point of targeting IoT through ARM processors in 2013.
Nandini Ramani, vice president of Java and Internet of Things at Oracle, said: "The MIPS architecture is widely used in networking, embedded and other key markets. We are excited to see the differentiated feature set that Imagination has laid out in its roadmap for MIPS, and we are seeing increasing demand for optimized Java support for MIPS. Through this new relationship with Imagination, we are strengthening the presence of Java in a range of high-volume markets."
Related links and articles:
News articles:
Indian Startup Tips Wearable Processor Family
Imagination Volunteers 'Warrior' Cores for MCU Duty