Processor intellectual property licensor Imagination Technologies plc (Kings Langley, England) recently announced the availability of its PowerVR Series 7 graphics processing units.
PowerVR Series 7 implement the same 'Rogue' GPU architecture as the established PowerVR Series 6 but has been updated with additional features and allowing it to scale further than PowerVR Series 6.
In general the PowerVR Series 7 has been architected to provide improved energy efficiency, to provide virtualization support and to support tessellation in hardware, which is an implementation of a graphics requirement that comes out of the Android 5.0 'Lollipop' release.
Like the Series 6 it comes in two families: the Series7XT is aimed at achieving high performance on high-resolution screens, Imagination said. The Series7EXT is targeting energy efficiency for rendering graphics for games and other applications on a range of portable devices including IoT and wearable equipment, smartphones and tablet computers and up to 4K televisions.
The Series7ET includes two GPUs: the GE7400 with a half shading cluster or 16 arithmetic logic units (ALUs) and the GE780 with a single shading cluster with 32 ALUs.

Table 1: PowerVR Series7XE GPUs. Source: Imagination Technologies.
PowerVR Series7XE GPUs implement multiple compression technologies that reduce memory bandwidth usage and minimize power consumption. These compression technologies are useful for devices that require high fill-rates yet have limited memory bandwidth available such as tablet computers and televisions.
The Series7XT includes five GPUs. These range from the GT7200 with two shading clusters and 64 ALUs up to the PowerVRGT7900 with 16 shading clusters and 512 ALUs. This series of GPUs are up to 60 percent faster compared to Series6XT counterparts at the same clock frequency and with the same number of shader clusters, the company claims.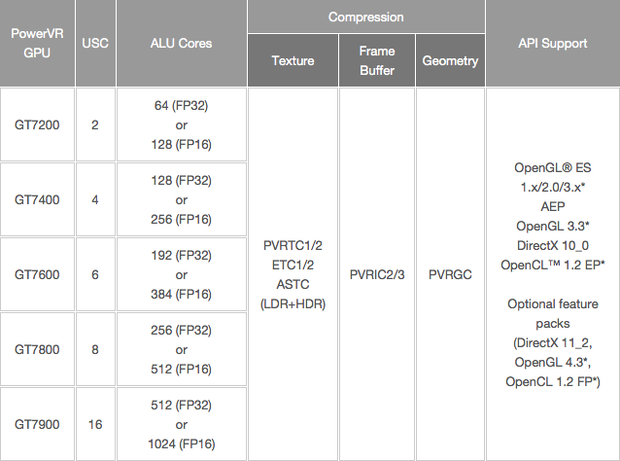 Table 2: PowerVR Series7XT GPUs. Source: Imagination Technologies. *PowerVR Series7XT GPUs are designed to pass the Khronos Conformance Testing Process for all identified graphics, compute and vision APIs. Current conformance status can be found at www.khronos.org/conformance.
The improved efficiency comes as a result of an instruction set enhancement called co-issue, implemented by Imagination in the Series 7 GPUs, which makes better use of existing resources, the company said.
The Series 7XT also had an optional 64-bit floating-point ALU in each cluster that is not present in the 7ET or Series 6 GPUs. FP16 is widely used in mobile applications as it offers sufficient accuracy at lower power. FP32 is used where higher rendering precision is required. FP64 can be used in designs aimed at supercomputing-style applications.
As a result the PowerVR is designed to provide a level of performance from wearable equipment through automotive, mobile and consumer electronics devices, up to high-performance GPU compute. The Series7XT spans from 150GFLOPS to 1.5TFLOPS theoretical performance.
As with previous PowerVR GPUs the Series 7 supports compression of textures and communications through PVR3C and ASTC (adaptive scalable texture compression) support. Also as per earlier generations Series Y supports dynamic core and cluster-levl power management.
"With PowerVR Series 7, we have not only honed our architecture but also our IP support with tools such as our Design Optimization Kits for rapid physical and performance optimization. These allow our partners to choose right-sized solutions based on the optimum balance of power, performance and area for every segment," said Tony King-Smith, executive vice president of marketing for Imagination, in a statement.
With Series 7 some the features are specifically aimed at different markets and licensees can select these features by specifying a feature pack when they deal with Imagination. Imagination lists three packs.
The Android Extension Pack (AEP) targets Android applications with hardware tessellation and native OpenGL ES 3.1 support in the new GPUs. This pack, in essence provides maximum content compatibility with the Android 5.0 'Lollipop' release.
The DirectX 11 Feature Pack is for customers targeting Microsoft operating systems. This pack for Series7XT GPUs provides a DirectX 11.2 feature set.
The OpenCL FP64 Feature Pack is for customers leveraging Series7XT for high-performance server compute, this pack provides a scalable 64-bit floating point co-processor per cluster.
The GPUs in the Series7XE and Series7XT are available for licensing and Imagination has already licensed special partners. Physical Design Optimization Kits (DOKs) – equivalent to ARM's POPs – will be made available to aid customers in optimizing for power, performance and area as they take their designs to silicon.
Related links and articles:
IHS semiconductor value chain research
News articles:
Imagination Cuts GPU Down For Wearables
Multi-threading Core Pitched to Beat ARM in Mobile
Imagination's Prpl Plays Linaro Catch-Up