ARM Holdings plc, the leading licensor of processor intellectual property, overtook rival IP provider Imagination Technologies Group plc in graphics processor IP shipments in 2014, according to numbers from the two companies.
ARM says that in 2014 some 550 million chips shipped with its Mali graphics IP inside. The numbers are slightly harder to break out from Imagination, as it reports IP shipments at the half- and full-year for a financial year that runs to the end of April each year. But for the year ended October 2014, Imagination gave its non-MIPS IP shipments at 498 million units. (Imagination includes other IP in that total, including its Ensigma communications IP).
Notably, Imagination's non-MIPS IP shipments have been in decline. They slipped to 248 million units in the first half of its fiscal 2015, down from 280 million units in the first half of fiscal 2014.
A spokesperson for Imagination told Electronics360 that the company is comfortable with the way the company's business is progressing. "The IP paradigm is shifting increasingly toward scalable and configurable IP platforms and subsystems. We've invested a lot in broadening the range of our IP portfolio from GPU to CPU to communications and beyond," the spokesperson said via email.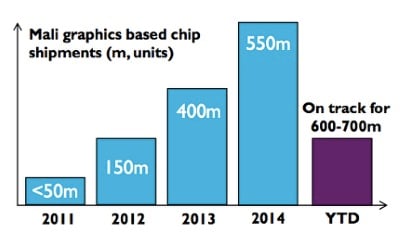 ARM's Mali shipments are up and to the right on an annual basis. Source: ARMARM, meanwhile, is buoyant. It claims Mali is the most widely licensed graphics processor, with 108 licenses granted to 73 licensees. As a result, Mali shipments will continue to grow to between 600 million to 700 million units in 2015, according to the company.
Imagination has launched its Series 7 of PowerVR cores, which serve as an extension to the "Rogue" GPU architecture that debuted in PowerVR Series 6, allowing it to scale further and providing additional features. However, GPU excellence at a premium will usually lose out to good-enough performance at an advantageous price.
ARM also claims 2014 market penetration for Mali of 75% in digital televisions, more than 50% in Android tablets and more than 30% in Android smartphones. A final feather in ARM's cap is that the growth in the adoption of GPU computing as part of a heterogeneous processing philosophy will support further expansion of Mali demand.
Impact of Heterogeneous Computing
Heterogeneous computing allows Imagination and its PowerVR GPUs to co-exist with ARM processors in a system-on-chip (SoC). But it's clear that—in the short to medium term—how well CPU and GPU cores are tuned and tested to work together will tend to favor one-stop shopping, rather than picking best–in-class in multiple categories.
Perhaps in recognition of this, Imagination executives spent time in its most recent analyst conference in December 2014 discussing a customizable IP platform strategy in which Imagination brings different cores together to create pre-validated, multi-IP configurations together with drivers, OS ports and development boards. But for this strategy to succeed, customers must be ready to choose the combination of MIPS plus PowerVR over ARM's offering of Cortex plus Mali, which is becoming a defacto standard in many applications.
The Imagination spokesperson said the company is seeing new licensees engage with Imagination as a result of new technologies. "Our ray tracing, video and vision technologies are great differentiators for the next wave of innovation at the high end of multimedia IP, where we are the acknowledged IP technology leader," the spokesperson said. "We've also extended the scalability of our GPUs at the lower end, bringing our leading technology into highly efficient GPUs at aggressive price points."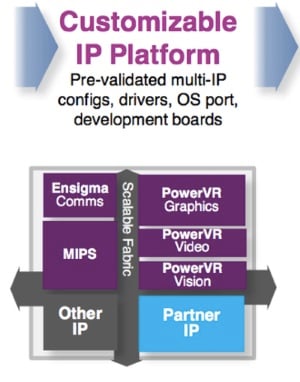 Imagination is looking to bring different types of IP core together in sector-optimized customizable IP platforms. Source: Imagination Technologies.
Tom Hackenberg, principal analyst for MCUs and DSPs at IHS Technology, says there are many dynamics in play, including, performance, price and support.
"While it is dependent on the system-level integration and may occasionally flip-flop, PowerVR tends to appear with higher benchmarks than Mali more consistently. However, Tegra's Maxwell and Qualcomm's Adreno tend to top the list," Hackenberg says. "Price may have something to do with Mali success, though neither ARM nor Imagination will discuss actual license fees and royalties."
Hackenberg adds that a significant driver has been Apple versus Android. "Apple has favored PowerVR and appears likely to continue to do so," Hackenberg says. "Android vendors are mixed, but those that don't go with a proprietary GPU—such as Nvidia or Qualcomm—seem to favor Mali. So, as Android has gained market share, it has brought success to Mali as well."
Hackenberg says the convenience of one stop shopping and full integration support is a big plus for Mali, given the success of Cortex processor IP. "Considering the complexities involved, for many—especially newer players and smaller companies—as long as the graphics are competitive, it is not necessarily worth the cost, both in terms of royalties and design complexities, to push for best in class graphics if it means going to two different suppliers to support the SoC development," Hackenberg says.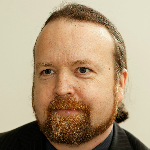 Tom Hackenberg"I don't think there has been so much conversion of PowerVR clients to Mali as much as an inability to keep up with the massive attraction of the ARM ecosystem for new entrants," Hackenberg concludes.
Financials
The relative positions of Imagination and ARM can also be judged by recent financial results. In its interim figures for the six months to Oct. 31, 2014, Imagination declared an adjusted profit before tax of £3.3 million (about $5.0 million) on half-year revenues of £82.2 million (about $124 million), down 3% from the same period a year before. The adjusted profit was reported as a loss after tax of £10.3 million (about $15.5 million) because of share incentive charges and amortization of intangible assets from acquisitions, such as MIPS.
On April 21, ARM declared a normalized profit before tax for the first quarter of 2015 of £120.5 million (about $180 million) on sales revenue in the quarter of £227.5 million (about $340 million), up 22% on the same quarter a year before.
Competitors in the licensable GPU sector include Nvidia, Vivante, Digital Media Professionals Inc. and arguably developers of GPUs for internal use such as Adreno GPUs that are developed by Qualcomm and used in its Snapdragon SoCs.
Questions or comments on this story? Contact: peter.clarke@ihs.com
Related links and articles:
News articles: