Processor intellectual property licensor Imagination Technologies Group plc (Kings Langley, England), has developed a member of its PowerVR series of graphics processing cores to address the low-power requirements of smartwaches, wearables and IoT devices that need relatively sophisticated graphics.
Previously developers would do limited graphics rendering in software on the microcontroller as part of the embedded application or use a simple 2D graphics engine. The PowerVR GX5300 is intended to provide rich 3D graphics across a screen that is 480 pixels or 720 pixels wide.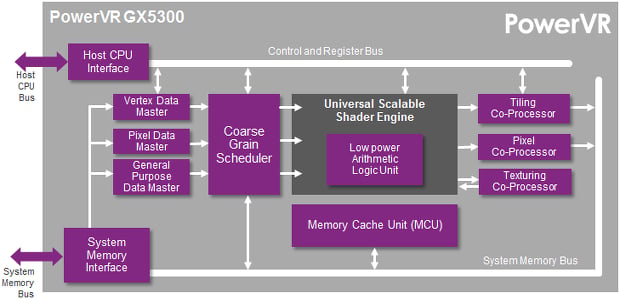 Block diagram of the PowerVR GX5300. Source: Imagination Technologies.
The core occupies 0.55 square millimeters in 28nm CMOS from Taiwan Semiconductor Manufacturing Co. Ltd. and can operate at a clock frequency of up to 250MHz. Imagination claims it is the smallest Android-compatible GPU and provides OpenGL ES 2.0 capability and texture compression. It also includes a programmable shader for tile-based deferred rendering (TBDR). These are both relatively recent technical introductions that help reduce power consumption.
"While Imagination has long been known for our leadership in high-end mobile and embedded graphics, the inherent scalability and power efficiency of the PowerVR architecture enables us to provide the best GPU solutions across the entire spectrum of consumer devices," said Tony King-Smith, executive vice president of marketing at Imagination, in a statement. "We see many compelling opportunities such as low-cost smartphones and tablets, wearables and IoT devices. Imagination's silicon IP will be at the center of many of these devices with our PowerVR GPUs, video and vision processors, MIPS CPUs and Ensigma Wi-Fi and Bluetooth, complemented by our FlowCloud device-to-cloud software platform."
Imagination provides developers with free access to the PowerVR Graphics SDK, a cross-platform toolkit designed to support all aspects of 3D graphics application development.
Related links and articles:
IHS Technology Semiconductor & Components Page
News articles:
Will Expediency Make Intel an ARM Mali Licensee?
Imagination Adds Ray-Tracing to PowerVR Graphics
Indian Startup Tips Wearable Processor Family
MediaTek Gears Up for Wearables, IoT