Processor IP licensor Imagination Technologies Group plc (Kings Langley, England) has announced two upgrades to its PowerVR Series 6 family of graphics processing unit (GPU) cores; the Series6XT and the Series6XE.
The Series6XT cores achieve up to a 50 percent performance increase compared to equivalent configurations of previous generation cores, Imagination claimed.
The Series6XT architecture has an enhanced instruction set for increased GPU efficiency and something called Hierarchical Scheduling Technology (HST) for increased resource utilisation; this involves a combination of driver-based scheduling, optional demand-driven workload distribution across GPU cores, and a mixture of microkernel firmware scheduling and coarse-grained programmable per-cluster scheduling, and data-driven cluster thread scheduling.
The first four member of the PowerVR Series6XT GPU IP family are the GX6250, GX6450 and GX6650, which provide two, four and six shading clusters, respectively, and the GX6240, an area-optimized two-cluster implementation.
The Series6XT architecture supports OpenGL ES 3.0 and is aimed at a range of markets from wearables and mobile devices to high-end gaming and computing. Series6XT also adds performance enhancements to support the extended color gamut of 4K/UltraHD TV.
The Series6XE family is aimed at providing high-quality graphics at the same time as GPU computing for entry-level mobile devices and tablets, as well as wearables and other consumer products including DTVs and set-top boxes.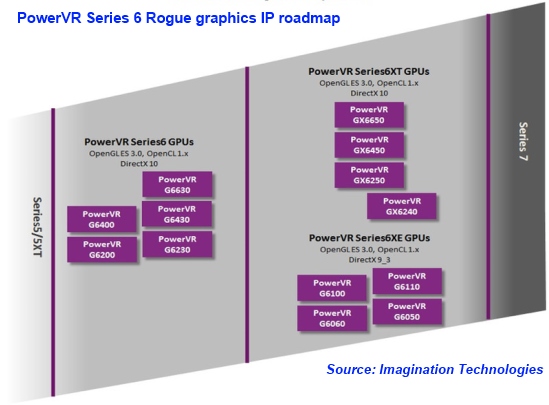 Cores being introduced include half- and single-cluster designs and go beyond the previous generation Series6 G6100, which has been updated and further optimized as part of the new Series6XE family. Since its introduction in 2013, the G6100 has been licensed multiple times, including by a number of tier-one companies, for applications including smartphones, tablets and consumer products.
"With the introduction of these new PowerVR Series6XE Rogue cores, Imagination is deepening its focus on cost-sensitive entry-level designs where silicon area, power consumption and bandwidth usage are critical concerns," said Martin Ashton, an executive vice president of engineering at Imagination, in a statement.
Both the Series6XT and Series6XE cores can be supported by design optimization kits (DOKs), which are similar to ARM's POPs, providing a means for developers to move around the design space and optimize for power, performance and area (PPA), Imagination's DOKs are comprised of optimized reference floorplans/design flows based on EDA software, libraries of anciliary IP, characterisation data and documentation.
Related links and articles:
News articles:
ARM Buys Lighting Software Firm to Improve Graphics
Smartphone Slowdown Hurts Loss-making Imagination
Imagination Offers 'Raptor' ISP Cores