Imagination Technologies Group plc, the leading licensor of graphics cores, has announced the availability of a graphics core family that merges conventional scanline rendering with ray-tracing methods.
Ray tracing – which calculates the paths of light through a scene to the point of view – is computationally intensive and has been reserved for non-real time high resolution applications such as computer-generated imagery in cartoon films.
However, as the resolution of screens has increased in consumer electronics the computational overhead becomes less significant and Imagination is using the technology in hybrid way to add lighting effects, dynamic soft shadows, reflections to a scene that has already been scanline rendered.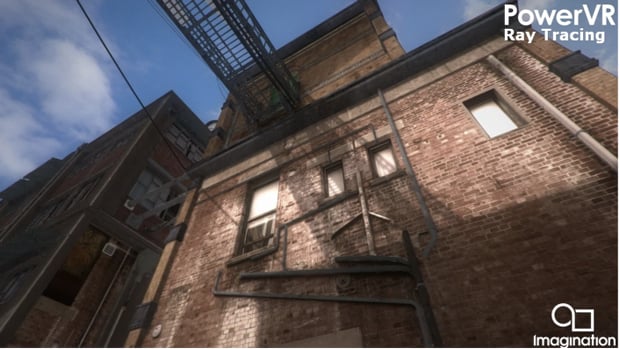 Ray tracing adds shadows and lighting to raster rendered graphics. Source: Imagination Technologies Group plc.
The PowerVR Wizard graphics architecture is a ray tracing-enabled version of the PowerVR Series6XT Rogue architecture, which adds features to the computing pipeline to enable real-time modeling of fully dynamic lights and shadows. The cores are aimed at mobile applications such as smartphones and tablet computers. PowerVR GR6500 is the first member of the new Wizard family of cores designed to bring real-time, interactive ray traced graphics to a broad range of consumer and mobile platforms, as well as gaming consoles and mainstream gaming PCs, workstations and servers.
Keeping within the power and bandwidth budgets projected for future consumer devices required the careful addition of optimized fixed-function blocks in the GPU, Imagination said.
Among the specialized blocks for ray tracing required by PowerVR Wizard are coherence gathering engines, an intersection testing array and an accelerated scene hierarchy generator. These receive rays from the shaders, determine their intersection with objects in the scene and initiate more shaders. This has to be done alongside a more rapid scene hierarchy generation. The result is an architecture that can perform ray-tracing operations around 100 times as efficiently as performing the same operation using GPGPU functionality.
Power VR GR6500 Numbers
The PowerVR GR6500 offers a performance of 300 million rays per second and 100 million dynamic triangles per second at a clock frequency of 600MHz. It offers four unified shading clusters with 128 ALU cores delivering in excess of 150GFLOPS (32bit floating point) at 600MHz.
Imagination plans larger cores with more resources and smaller cores with lower power consumption. It cores are available for licensing now and are expected to be targeted at 16nm/14nm node implementation although could be synthesized for 28nm or 20nm manufacturing processes.
The incorporation of ray tracing in the PowerVR graphics architecture is the result of Imagination's acquisition of Caustic Graphics Inc. for $27 million at the end of 2010. Caustic was developing a hardware accelerator that it claimed could lower the cost of ray tracing and merge lighting models with polygon-based graphics rendering.
Imagination's main rival in graphics core licensing, ARM Holdings plc (Cambridge, England), has not so far gone down the ray-tracing route but did acquire a lighting software company to help improve the functionality of its Mali graphics cores.
ARM acquired games software company Geomerics Ltd. (Cambridge, England) for approximately £6.2 million (about US$10 million) in 2013. Geomerics' Enlighten software was written to work with conventional raster-rendered graphics and generate "radiosity" which is an approximation of the reflected lighting from surfaces in the image and it can do this in a fraction of a frame. The software has been used in a number of games including Battlefield 3 and 4.
Related links and articles:
News articles:
ARM Buys Lighting Software Firm to Improve Graphics
Imagination Volunteers 'Warrior' Cores for MCU Duty
Imagination Offers 'Raptor' ISP Cores
Startup Ports Gesture Software to Mali GPUs