Hyperloop Transportation Technologies (HyperloopTT) plans to become a publicly listed company after forming an agreement with special purpose acquisition company Forest Road Acquisition Corp.
The company claims it will be the first publicly traded hyperloop only focused vendor.
HyperloopTT is focused on developing a suite of hyperloop technologies for next generation transportation that it will offer as a service to those looking to develop a transportation network. The company said this will potentially earn both upfront and recurring licensing fees for sharing its intellectual property and know-how with customers including governments, infrastructure and transportation operators.
HyperloopTT's "Hyperloop-as-a-Service" business model will enable it to potentially earn both upfront and recurring licensing fees for sharing its technological IP and know-how with customers including governments, infrastructure operators, and transportation operators.
The company plans to test its technologies using a full scale hyperloop test track that it began constructing in 2019 in Toulouse, France, as well as a hyperloop insurance framework model and safety and certification guidelines.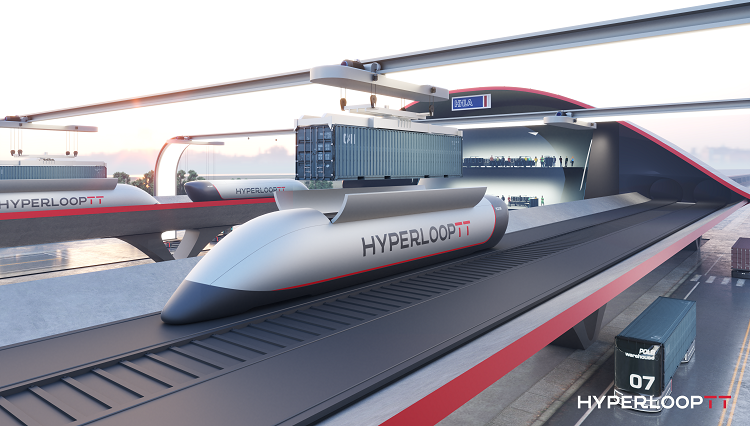 An artist rendering of how a potential hyperloop terminal might look on a cargo dock. Source: HyperloopTT
What is the hyperloop?
Hyperloop is the so-called fifth mode of transportation. Hyperloop technology uses magnetic levitation to lift a pod off the track and guide it as it moves, creating a friction-free track. Almost all the air in the tube surrounding the pod is removed to create the same environment found at 200,000 ft above sea level. The combination of the linear motor, magnetic levitation and low-pressure tube reduces drag so that only a small amount of electricity is needed to propel the pod at speeds as high as 670 mph. This could possibly create a more cost-effective system than high-speed rail or airline transportation.
(Learn more about magnets on Globalspec.com)
The technology is not only ultra-fast but is reportedly energy-efficient and completely CO2 neutral. This combination is one of the reasons the hyperloop has gained attention in the transportation market as countries look for new ways to meet carbon footprint requirements while providing new ways of traveling for consumers.
Doubt remains
The move to become a publicly traded company focused on the hyperloop comes at a time when doubt regarding the so-called fifth mode of transportation has never been higher.
Just recently it was revealed that SpaceX dismantled its hyperloop test track at its headquarters in Hawthorne, California, leaving many to think this was the death knell of the technology considering the initial ideas and support came from Elon Musk and SpaceX. Musk even created a second company, The Boring Company, to provide a way to build underground hyperloop tunnels.
The move is a big switch considering SpaceX and Musk fueled the development of hyperloop pods by working with universities in an annual competition to test pods on its mile-long test track.
Those who already considered the technology to be far-fetched pointed to the SpaceX move as the end for the technology, pointing to Virgin Hyperloop's move to abandon passenger travel and focus solely on cargo transportation for its hyperloop investment.
Still developing
Yet, there are companies that are still not only developing hyperloop technology, but also getting funding for the technology.
In addition to what HyperloopTT is doing with its announcement to go public, other companies have received funding like the European Union making its first direct funding investment into hyperloop technology to Dutch startup Hardt Hyperloop. Transpod also received a multi-billion-dollar investment for Alberta, Canada's infrastructure plan.
And last year, the Biden Administration signed the Infrastructure Investment and Jobs Act, a wide-sweeping bill that would see investments for bridges, freeways and other means of transportation including the hyperloop.