Hyperloop Transportation Technologies (HyperloopTT) has revealed a vision for a sustainable high-speed cargo and freight transportation solution called HyperPort.
Working with seaport Hamburger Hafen and Logistik AG (HHLA), the companies will present a virtual reality demonstration of Hyperport at ITS World Congress, a mobility trade show, taking place in Hamburg, Germany, on Oct. 11-15.
HyperPort is a solution for port operators to transport containerized cargo hundreds of kilometers in minutes. The system is capable of moving 2,800 containers a day in an enclosed operating environment to eliminate at-grade crossings. This will help to increase reliability, efficiency and worker safety, HyperloopTT said.
The capsules can transport two 20 ft standard or high cube containers or one 40 ft or 45 ft container at airplane speeds.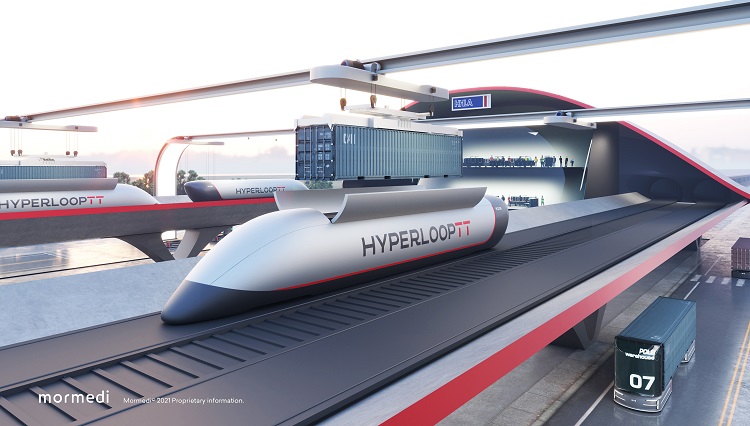 The HyperPort is capable of moving about 2,800 containers a day in a closed operating environment to improve safety and efficiency. Source: HyperloopTT
Hyperloop technology uses magnetic levitation to lift the pod off the track and guide it as it moves, creating a friction-free track. Almost all the air in the tube surrounding the pod is removed to create the same environment found at 200,000 ft above sea level. The combination of the linear motor, magnetic levitation and low-pressure tube reduces drag so that only a small amount of electricity is needed to propel the pod at speeds as high as 670 miles per hour. This creates a more cost-effective system than high-speed rail or airline transportation.
(Learn more about magnets with Globalspec.)
The HyperPort freight capsule was developed with HHLA and engineering-firm CT Ingenieros including conception, analytical models, calculations, trade-off studies, 3D models, overall design optimizations and integrations.
"Using the same underlying technology as our passenger systems, the HyperPort can future-proof supply chains while returning valuable seaside real estate back to surrounding communities," said Andres De Leon, CEO of HyperloopTT. "Our work with world-leading firms to move this technology forward is a significant revenue opportunity for port operators all around the world."
Most of the hyperloop development has thus far been in the realm of passenger transportation. Just recently, Elon Musk's The Boring Company opened the initial three passenger stations for its loop transportation system in Las Vegas. This system is not like other proposed hyperloop systems as it uses Tesla electric vehicles to transport passengers underground at speeds of up to 100 mph.
HyperloopTT has been actively developing systems for hyperloop and showcasing what the potential of the technology could be, including a rendering of a full-scale commercial hyperloop system and its safety valve system, a critical component in these systems.
Virgin Hyperloop is another company that has actively been working on its own version of the hyperloop offering, including a visualization of a hyperloop passenger transportation system including loading and unloading stations. Virgin also tested its system with actual passengers late last year and established a location to build a certification center in West Virginia.