Critical Communications
TechInsights Teardown: Vivo X Fold V2178A smartphone
25 November 2022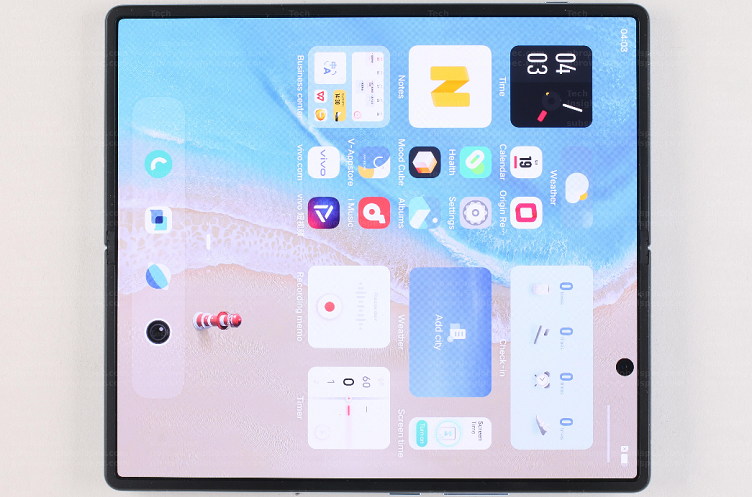 Foldable phones are growing in number and sophistication. While not for everyone with its larger form factor, it is gaining traction among some consumers who want to have a smartphone that can fold into the size of a tablet but can also shrink to become a regular sized smartphone.
The foldable smartphones are also extremely expensive compared to the average selling price of most smartphones, lending these devices to be more for early adopters or those specifically looking for a phone with this form factor.
But there is obviously enough of a market for companies to continue to invest in the technology and roll out new phones as we have seen other companies recently debut foldable versions of their flagship devices. This includes Samsung, which recently released its Galaxy Z fold 5G smartphone.
The Vivo X Fold smartphone includes a double 6.53 inch active matrix organic light emitting diode (AMOLED) with touchscreen capabilities. The phone also includes six different cameras and both wide angle and telephoto lenses.
The X Fold phone is powered by an octa-core Snapdragon 8 generation 1 applications/broadband processor from Qualcomm, Samsung multi-chip memory and more.
The following is a partial deep dive into the Vivo X Fold smartphone from TechInsights.
Summary points
6.53 inch AMOLED w/touchscreen
12 GB mobile LPDDR5 SDRAM
16 MP CMOS BSI wide-angle 1/3 inch
16 MP CMOS BSI wide-angle 1/3 inch
50 MP CMOS BSI wide-angle 1/1.8, 1/1.57 inch
8 MP CMOS BSI periscope telephoto 1/4.4 inch
48 MP CMOS BSI ultra-wide angle 1/2 inch
12 MP CMOS BSI telephoto 1/2.93 inch
Dual LED flash
Released: April 2022
Pricing: $1,391
Target market: Communication/consumer
Availability: Worldwide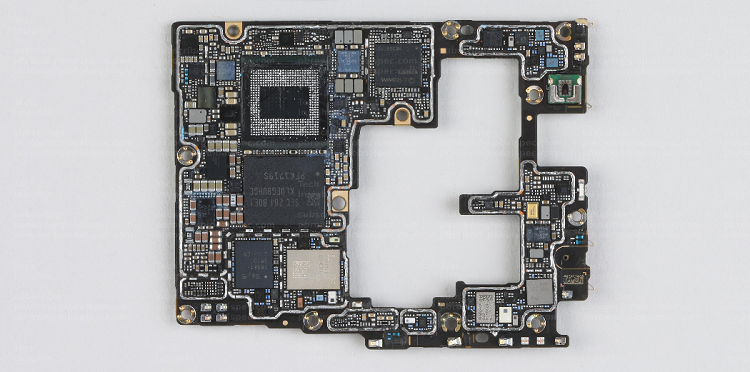 The main board of the Vivo X Fold phone contains all the major components that allow for operations of the device including the Samsung memory, main processor from Qualcomm and power management and communication chips. Source: TechInsights
Main board
The main board houses the most components found within the Vivo X Fold smartphone and the most important devices as well including the Snapdragon applications/baseband processor from Qualcomm, Multichip memory from Samsung and the camera power management from Qualcomm.
Other electronic components include:
Battery chargers, load switches from Texas Instruments
Stereo DAC from Cirrus Logic
MEMS microphone from Knowles
8 bit microcontrollers and six axis MEMS accelerometer/gyroscope from ST Microelectronics
Wireless power receiver from Renesas
2 bit dual supply transceiver from NXP Semiconductors
Front-end modules and RF switches from Qorvo
Quad-band GSM/LB front-end module from Skyworks
Antenna switches from Sony
(Learn more about microprocessors and microcontrollers on Globalspec.com)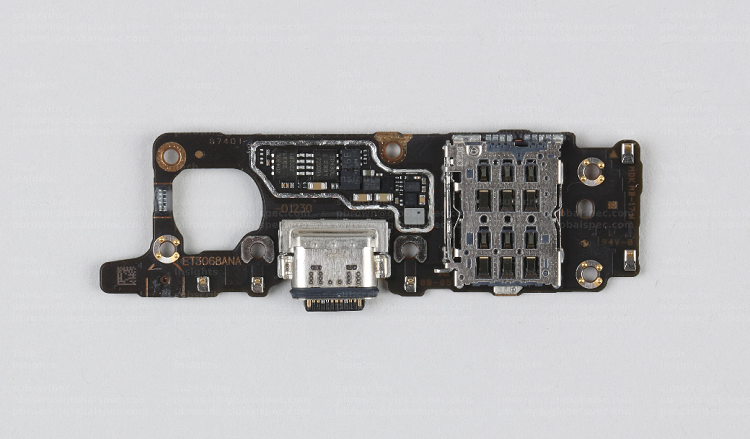 The auxiliary board hosts many electronic components for daily operation of the Vivo X Fold smartphone. Source: TechInsights
Auxiliary board
The auxiliary board contains the following electronics components: A 5.2 V step-up DC-DC converter and low-voltage comparator from TI; a OVP load switch from AWINIC; a MEMS microphone from Knowles; RF antenna tuners from Qualcomm; and audio amplifier from Orient-Chip Semiconductor.
(Learn more about MEMS on Globalspec.com)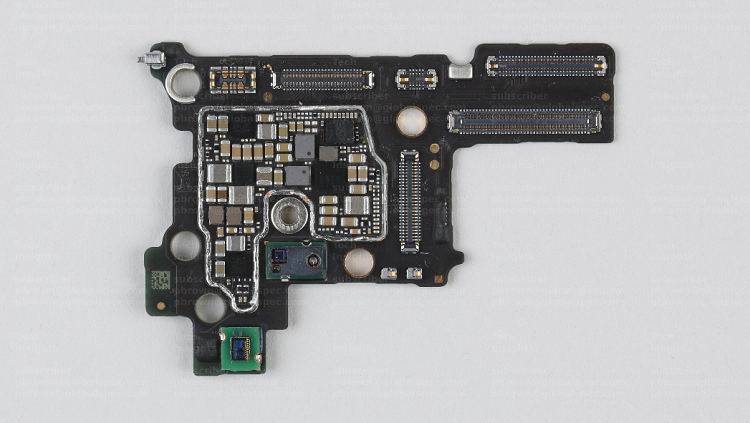 The connector board of the Vivo X Fold smartphone houses power supply components, RF and wireless chips and other connectors for daily operation by users. Source: TechInsights
Connector board
The connector board brings together the sensors and amplifiers needed to allow the Vivo X Fold smartphone to work with the internet as well as other wired and wireless capabilities. Specific electronic components include:
MagnaChip's digital hall effect sensors
Qualcomm's camera power management
Nisshinbo Micro Devices' LDO regulators and DC-DC converters
Silicon Mitus' display power management chips
Sensortek's ambient light/proximity sensors
Goodix's Class-D audio amplifiers
Qorvo's RF antenna tuner
(Learn more about RF and wireless chips on Globalspec.com)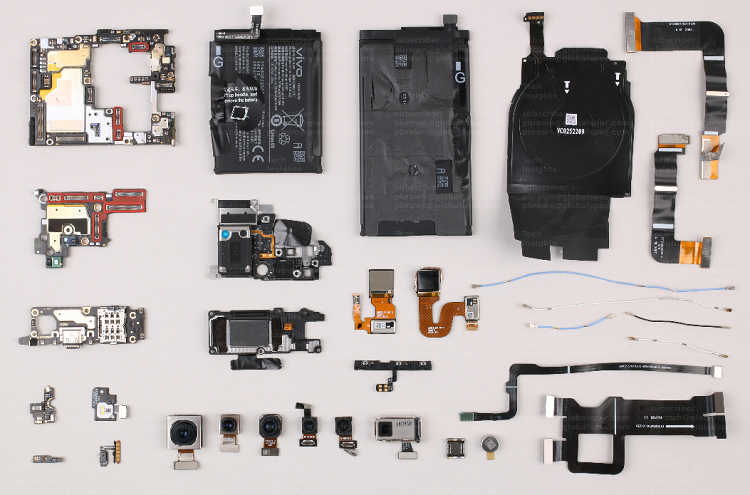 All of the major components of the Vivo X Fold smartphone. Source: TechInsights
Major components
$147.95 — Octa-core Snapdragon 8, generation 1 applications/broadband processor — Qualcomm (Qty: 1)
$75.44 — 120 Hz main display/touchscreen subsystem — Samsung (Qty: 1)
$51.88 — 50 MP wide-angle rear camera subsystem (Qty: 1)
$43.16 — Multichip memory — 12 GB mobile LPDDR5 SDRAM — Samsung (Qty: 1)
$28.63 — Multichip memory — 256 GB 3D TLC V-NAND flash, memory controller — Samsung (Qty: 1)
$26.35 — Ultra-wide-angle rear camera subsystem (Qty: 1)
$21.23 — Cover ultrasonic fingerprint sensor subsystem (Qty: 1)
$21.18 — Main ultrasonic fingerprint sensor subsystem (Qty: 1)
$17.48 — 8 MP periscope telephoto rear camera subsystem (Qty: 1)

Find Free Electronics Datasheets