Epilog Laser has launched the new Fusion Maker Laser System, designed with industrial components that withstand heavy use and high-volume production. This is the first laser system designed to allow the home user and home business owner to operate an industrially built laser machine.
Available in 30 W and 40 W configurations, the Fusion Maker features up to 60 inches-per-second engraving speeds, 3.5G acceleration and Epilog's IRIS Camera System, which allows users to position artwork and graphics quickly and accurately by providing a real-time image of the engraving bed.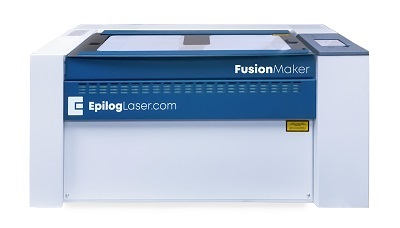 Source: Epilog Laser
The 24 inch x 12 inch engraving table is large enough for a variety of items. The engraving table offers 7 inches of z-clearance, allowing space for engraving taller items as well as a rotary attachment option to engrave cylindrical items, such as highly-popular customized tumblers.
"Epilog's long history of manufacturing industrial laser systems allowed us to take our years of experience to design a user-friendly, high-performance laser system to build a successful home business," said Mike Dean, vice president of sales and marketing for Epilog Laser. "From our in-house designed laser tubes to precision parts, the Fusion Maker is designed to be the longest-lasting, highest performance compact system on the market."
The Fusion Maker starts at $9,995.00 for a 30 W system and is currently in production.