New 650 V fast recovery diodes (FRDs) developed by Rohm feature low forward voltage (VF), fast reverse recovery time (trr) and ultra-low noise characteristics. These devices are ideal for industrial and consumer equipment that handle large amounts of power, such as air conditioners and electric vehicle charging stations.
Optimizing the device structure and materials allows the RFL/RFS series to achieve the optimum balance of VF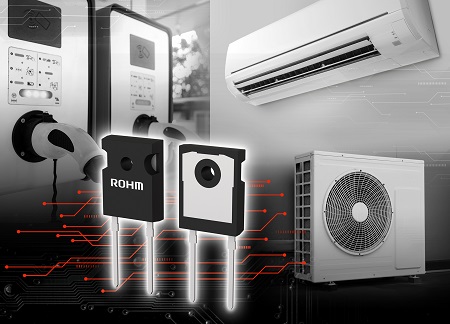 Source: Rohm and trr, which are important characteristics for FRDs but are in a trade-off relationship. The low RFL series reduces VF by approximately 3.2% and trr by about 8.3% over the conventional RFN series, while the high-speed RFS series lowers VF by approximately 17.9% versus the conventional RFUH series. Both products contribute to higher power supply efficiency through optimal design based on circuit requirements and feature ultra-low noise diode recovery characteristics to reduce both workload and components for noise.
When designing power supply circuits, a circuit configuration (topology) must be defined and selected that matches the required specifications for input/output voltages, power, isolation and other factors. Rohm also offers a selection page that recommends the optimum products for various topologies.