New Yorker Electronics has announced the release of several new products from Lite-On Semiconductor, a global AC/DC glass passivation bridge supplier, including glass passivated bridge rectifiers and a new series of silicon carbide (SiC) Schottky diodes.
The new Lite-On Semiconductor glass passivated bridge rectifiers, distributed by New Yorker Electronics, are an ideal choice for server, telecom, data center, industrial, lighting and home appliance applications. The NTT, the LVF/Ultra LVF and the GBJS have high surge current capacities and high heat dissipation.
The NTT series of glass passivated rectifiers features a high forward current capability up to 8.0 A in a small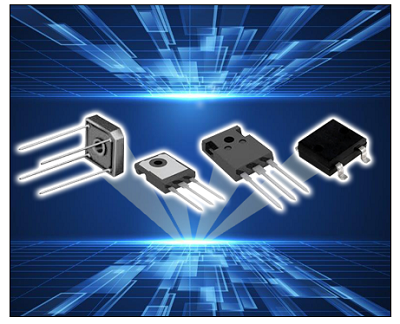 Source: New Yorker Electronicssurface-mount package. It is ideal for automated placement and features reliable low-cost construction using a precise plastic molding technique. It is used for fast charging, USB power delivery and NB adapters, general purpose power adapters (less than 100 W) and three-in-one DTV power board (less than 135 W).
The new Ultra LVF series is designed for AC-to-DC full-wave bridge rectification for switch mode power supplies (SMPS), LED lighting, adapter, battery charger, home appliances, office equipment and telecommunication applications. It is rated at 600 V PRV with robust, reliable construction in a compact, thin-profile package design and approximately 220 mg. The LVF features low-forward voltage drop ideal for a printed circuit board. It also has high-surge current capability and weighs only approximately 6.82 g.
The new Lite-On Semiconductor GBJS series also boasts a low-forward voltage drop, making it ideal for a printed circuit board. Like the others, it is encased in plastic material that has a 94 V-0 UL flammability classification. It is used in bridgeless technology in desktops/workstations to a 80+/90+ silver and gold standard. It can be used for server power and telecom power supply (networking stations, data center SMPS), industrial power supply (street lighting, synergy panels) and home appliances (air conditioners).

The new LTTH810(F)W and LTTH812(F)W models in the LTTH series are hyper fast glass passivated rectifiers featuring PFC CCM, a VB: 1,000 and 1,200 V, and an I(av): 8A. It claims a Trr: 50 ns at 25° C, a Vf: 1.3 at 125° C and an IFSM: 80 A at 10 ms.

Its counterparts, the LTTH3060PW and LTTH3060(F)W, are super fast rectifiers that yield a VB: 600 V and an I(av): 30 A. It also exhibits a Trr: 45 ns at 25° C, Vf: 1.7 at 125° C and an IFSM: 350 A at 10 ms. Both the new hyper fast and super fast rectifiers are designed to provide a high thermal cycling performance, low thermal resistance, high reliability and efficiency and a soft recovery characteristic. They are both used in high frequency inverters, free wheeling, AC 380 V Vin for PFC diodes and UPS (DC-to-DC converters).

New Yorker Electronics is also now distributing the new Lite-On Semiconductor SiC Schottky diodes in the LSC series. These are designed by Lite-On for high thermal cycling performance and low thermal resistance. They feature high reliability and efficiency, allowing for the replacement of bipolar rectifiers with unipolar rectifiers. They are used in PFC diodes, UPS, EV chargers, server power and telecom power. The new models boast key parameters of PFC CCM, VB: 650 V/1,200 V, I(av): 4, 6, 8, 10 A/5 A and Qrr: 6 nC.