New Yorker Electronics has added 16 new state-of-the-art Vishay 10A to 30A FRED Pt® Hyperfast and Ultrafast Recovery Rectifier options in the low-profile SMPD (TO-263AC) package. Named a Vishay Super 12 Featured Product for 2017, it combines extremely fast and soft recovery characteristics with low leakage current and low forward voltage drop. The Vishay Semiconductors rectifiers reduce switching losses and over-dissipation in automotive and telecom applications, while providing a high-density alternative to the TO-263 (D2PAK) package.
The FRED Pt rectifiers are available in AEC-Q101-qualified and standard versions. They offer reverse voltages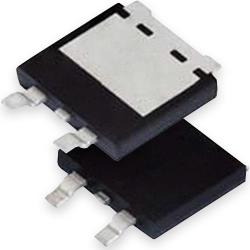 Source: New Yorker Electronics of 200 V and 600 V, reverse recovery time down to 25 ns and typical forward voltage drop down to 0.75 V in single- and dual-die configurations. Footprint-compatible with the TO-263 (D2PAK) package, the devices offer a lower package height of <1.7 mm for increased power density and efficiency, enabling slimmer end products.
Specified for output and snubber operation, the FRED Pt rectifiers are optimized for DC/DC converters, power factor correction (PFC), low-voltage inverters, and chopper motor drives in automotive engine control units (ECUs), antilock braking systems (ABS), LED lighting, and HID lighting, in addition to telecom DC/DC bricks. The devices feature a planar structure and platinum-doped lifetime control to guarantee high overall performance, ruggedness, and reliability characteristics in these applications. The components offer an operating junction temperature from -55 degrees C to +175 degrees C for a more robust design.
The devices provide an MSL moisture level of 1 per J-STD-020, LF maximum peak of +260 degrees C, meet the JESD 201 class 2 whisker test. They are RoHS-compliant, halogen-free with lead (Pb)-free terminations. The rectifiers are ideal for automated placement and allow for automated optical inspection (AOI) in automotive systems.
Features & Benefits:
• High robustness under high humidity
• THB capacitor grade III (85 degrees C, 85 percent relative humidity, 1000 hours at rated UNAC)
• Rated voltages: 250 VAC, 310 VAC, 350 VAC and 480 VAC
• 40 / 105 / 56 B climatic testing class
• Rated capacitance range: 1 µF to 35 µF
• Segmented film
• UL 810 (electrical pending)
• 85 degrees C rated temperature
Applications:
• Outdoor Applications
• Inverters and Converters
• High Power Supplies and Large Drives
• Renewable Energy
• Welding Equipment
• AC Harmonic Filters
• Uninterruptible Power Supply (UPS) Systems
New Yorker Electronics is a franchise distributor for Vishay and carries the full line of 2017 Vishay Super 12 Featured Products as well as its complete line of discrete semiconductors (diodes, MOSFETs and infrared optoelectronics) and passive electronic components (resistors, inductors and capacitors).