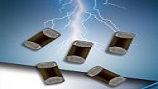 AVX Corporation has released a series of bidirectional ESD suppression diodes that combine the latest in transient voltage suppression (TVS) technology with miniature, leadless and low profile 0201 and 0402 packaging designs to deliver cutting-edge ESD protection in high-speed data and communication circuits.
The GiGuard Series ESD diodes offer clamping voltages below 12 V, ultralow nominal capacitance values spanning 17 pF down to 0.3 pF, and reverse leakage current values below 0.1 μa to preserve the integrity of high-speed signals and protect sensitive ICs during ESD events in applications, including: network communications, gigabyte Ethernet, USB 2.0, USB 3.0, HDMI and tablet and smartphone touchscreens. Additionally, unlike typical TVS diodes, which have hidden terminal pads, the solder joints on the new GiGuard Series diodes are fully visible to inspection systems.
Rated for 5 V and operating temperatures spanning -55° C to 125° C, GiGuard Series leadless, ESD suppression diodes are currently available in two low-profile case sizes: 0201 with a maximum thickness of 0.3 ±0.03 mm and 0402 with a maximum thickness of 0.5 ±0.05mm, as well as five nominal capacitance values spanning 0.3 pF to 17 pF. Allowable capacitance values for the series span 0.05 pF to 22.1 pF, peak pulse power characteristics span 46–96 W, and peak pulse current characteristics span 3–8 A.
GiGuard Series diodes also feature ±15 KV to ±30 KV air and direct contact ESD ratings in 150 pF, 330 Ω networks to satisfy IEC 61000-4-2 Level 4 minimum ESD requirements, and exhibit 20 A, 5/50 nS electrical fast transient (EFT) characteristics to meet IEC 61000-4-4 EFT, very fast charged device model (CDM) ESD and cable discharge event (CDE) requirements. The parts are packaged and shipped on 7 in. reels, and current lead-time for the series is eight weeks.