Silicon-based micromachined electromechanical systems (MEMS) have upset traditional vendors and associated supply chains in many high-volume arenas. Next in the cross hairs is the venerable quartz-based discrete-crystal oscillator.
MEMS' first mass-market success in the early 1990s was as accelerometers to deploy automotive airbags. Next came MEMS devices that infiltrated pressure, tilt sensing, gyroscopes, medical and motion-sensing applications. In some cases, they replaced existing sensors such as in airbags; in others, their favorable performance, power, size and cost allowed them to create new opportunities, such as tilt sensors in handheld devices like Nintendo's Wii.
The quartz-based discrete-crystal oscillator has been in use for more than 70 years, with tens of billions shipped annually. They provide two basic functions: as the heartbeat of nearly every electronic system, providing timing frequencies in the range of tens of kilohertz to hundreds of megahertz; and to establish channel tuning and timing in wired and wireless systems. Although an inexpensive electronic device may need only one oscillator, a more sophisticated product such as a server chassis, video-production studio or test instrument may have 10 or more, each providing independent timing signals for subsections of the overall design.
The timing and oscillator market, estimated at roughly $4 billion annually, splits into two broad categories: portable consumer devices including phones, tablets, GPS, Wi-Fi, Bluetooth and near-field communications; and a smaller segment in communications infrastructure, including Ethernet links, networking, broadcast, satellite and cellular base stations. Communications infrastructure commands higher average selling prices due to the greater precision and higher performance requirements. (See chart below.)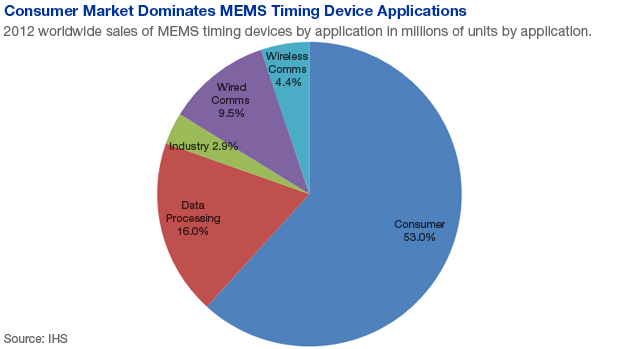 A MEMS device would replace a quartz-crystal component—which at present is an assembled mechanical device—with another component that is fabricated and packaged using standard IC production and packaging technology, along with all the advantages that the semiconductor supply chain offers. (See the illustration below of a MEMS-based timing device that is an all-silicon unit fabricated with techniques similar to other MEMS devices and electronic ICs.)
The market opportunity to replace the billions of crystal-based timing devices is attracting both established MEMS vendors as well as newcomers. MEMS makers currently active in this area include Discera, IDT, NXP, Sand 9, SiTime and STMicroelectronics. Many of the other 30-plus MEMS vendors are also active but have not yet made public announcements about their products in the timing device market.
"These devices have matured beyond the prototype stage," said Jeremie Bouchaud, director and senior principal analyst for MEMS & sensors at IHS. "A lot of progress has been made on cost, size and performance over the last two years."
That progress includes products introduced by SiTime for mobile handsets; by Discera for infrastructure, storage and video; and by IDT for infrastructure and networking. Some of these products are already shipping in volume, he said.
Mobile leads the way
"The timing market will be joining the MEMS mainstream this year, especially in the key mobile handset space," said Richard Dixon, principal analyst for MEMS at IHS. "Temperature-compensated crystal oscillators or TCXOs, which perform better than incumbent quartz equivalents, will come to the fore in the baseband processor/GPS chipset."
The overall MEMS timing market for mobile handsets and consumer electronics will reach 1.6 billion units in 2016, up from 86 million units in 2012, according to IHS (see chart below.) While the devices for this market segment have ASPs in the $1-and-under range, the IHS unit figure does not include the higher-end infrastructure and networking markets, where prices will range between $1 and $6 for midrange devices and up to $10 for highest-performance units.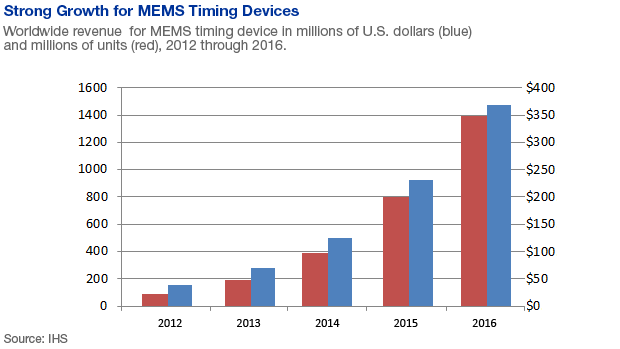 According to Todd Borkowski, director of product marketing at Sand 9, the tipping point will occur when "there's a MEMS product with phase noise, stability, power consumption and size comparable to quartz." While it's difficult to meet all these criteria simultaneously at present, Borkowski said MEMS devices can meet or exceed quartz devices in several of them, which is sufficient to make the switch to MEMs in some applications.
Established vendors of quartz-crystal devices are not ignoring the MEMS challenge. In August 2012, Vectron International, a leading crystal source, and Knowles Electronics, a maker of MEMS microphones, entered into a strategic partnership with SiTime to sell MEMS timing devices through their sales channels.
The OEM perspective
For OEMs, using MEMS-based components offers the usual dilemma of balancing gain vs. risk. While there are benefits of transitioning to MEMS, OEMs need to be aware of the inherent risks of using a proprietary technology and a single-source supplier. Compare this to the commodity quartz-crystal market with a well-established and time-tested supply chain, dozens of suppliers offering nearly identical parts, and competition based largely on price.
Borkowski says this isn't a problem if OEMs adopt the right approach. He notes that most timing devices are not sold directly to the OEM, but instead are part of a complete design "chip set" from providers such as Qualcomm that co-package their transceiver ICs with timing devices. OEMs need to look to their chipset suppliers for a process and technology that has multiple sources and where manufacturing can be transferred to another fab or foundry if needed, he said.
OEMS and chipset suppliers also have to be aware of the testing issues associated with MEMS devices, in addition to basic production capabilities. Testing crystals to ensure they meet specifications is a specialized function, one which many sources that presently test conventional, non-timing IC components may not be able to fully support. On the other hand, vendors of conventional crystals have the expertise and test systems, and understand the subtleties of the performance parameters, which can be even more complex for second- and third-tier factors.
MEMS oscillator proponents are not claiming that this technology can replace all crystals. Indeed, the performance of high-end, carefully tailored quartz designs is expected to be superior in some parameters for the foreseeable future. This is due to the underlying physics and materials used in the quartz-crystal components, as well as decades of experience and insight in design, packaging, production and test. But many mass-market designs do not need the ultimate in performance. In these cases the benefits of a MEMS-based implementation offers a compelling argument in terms of size, integration, cost or adaptability.
"MEMS has surpassed every expectation in consumer products," said Karen Lightman, executive director, MEMS Industry Group. "MEMS microphones, accelerometers, gyros and pressure sensors have leapfrogged legacy technologies to ship in hundreds of millions of smartphones, tablets and laptops. Offering varied levels of performance and pricing for consumer, communications infrastructure and industrial applications, MEMS timing devices will likely do the same to the mature quartz crystal market."
Electronics360 encourages reader comments to articles. Please email Editorial Director Bruce Rayner at bruce.rayner@ihs.com for comments. Below are comments submitted by Piyush Sevalia, executive vice president, Marketing for SiTime. Electronics360 posted the comments on June 28, 2013.
Regarding the choice between a single MEMS approach and multiple crystal sources.
Sevalia: MEMS timing has a more standardized supply chain, offers shorter lead times and easy capacity expansion, and ultimately, is less risky than a proprietary quartz supply chain.
Regarding the fact that most timing devices are not sold directly to the OEM, but instead are part of a chipset.
Sevalia: Timing chip are mostly sold to the OEM. Chipset suppliers want to focus on their SOCs and they do not have the expertise to build timing chips. I have not seen an example of a large SOC provider bundling (selling) timing ICs with their reference design.
Regarding test issues for timing devices compared to other ICs.
Sevalia: MEMS oscillator companies use standard, production semiconductor testers from Teradyne that are used by the entire semiconductor industry – in the case of quartz, many use Saunders, which is a proprietary tester that is only used by the quartz industry. Alternately, they build their own testers.
Regarding quartz vendors doing MEMS.
Sevalia: We build our own analog and MEMS chips. Quartz companies routinely outsource their analog chips to boutique semiconductor design houses. Therefore, we are in a unique position to provide expertise on clock specs, measurement techniques and more.