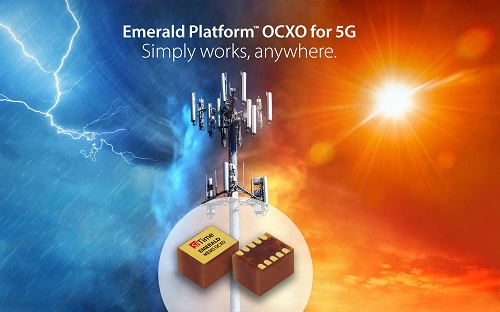 The Emerald Platform MEMS for 5G. Source: Sitime
Sitime Corp. has introduced its Emerald Platform micro-electro-mechanical systems (MEMS) precision timing solution for 5G infrastructure equipment.
The Emerald Platform allows operators to deploy 5G equipment in harsh environments and reliably offers mission-critical services. Sitime said the Emerald Platform is the first MEMS oven controlled oscillator (OCXO) in the industry.
OCXOs offer better performance in timing and are a critical technology for communications networks. Quartz-based OCXOs are sensitive to environmental stresses such as vibration, temperature changes and shock, which can degrade network performance, reduce uptime and impact mission-critical services such as advanced driver assistance systems (ADAS), Sitime said.
The Emerald Platform can withstand these environmental conditions and allows operators to condense the computing, core network and radio into a system that can be deployed in an uncontrolled environment such as a tower, rooftop or lamppost.
The Emerald MEMS OCXO SiT5711/12 is distributing samples with production quantities scheduled to be available in the second quarter of next year.