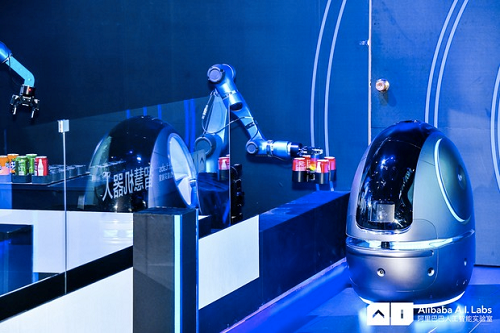 The robot can deliver room service or pick up laundry for guests. Source: AlibabaChinese e-commerce giant Alibaba has introduced through its A.I. Labs a new service robot for the hospitality industry that can do everything from deliver room service to pick up guest laundry for cleaning.
Hotels have largely been run by humans that do the bulk of the labor for all parts of the hotel. Now, guests can talk to the robot through voice commands, touch and gesture recognition and through AliGenie artificial intelligence to quickly get answers to questions or receive services from the hotel.
The global market for service robots is expected to grow from 20% in 2018 to 25% by 2020 with a cumulative sales forecast of about $27 billion, according to the International Federation of Robotics.
"Alibaba A.I. Labs' robot is the next step in the evolution towards smart hotels," said Lijuan Chen, general manager of Alibaba A.I. Labs. "In addition, it is solving pain points in the hotel sector, such as enhancing service efficiency…The robot will be the ultimate assistant for hotel guests who want everything quickly and conveniently at their fingertips."
The robot is about one meter tall with a walking speed about one meter per second. The robot combines an aluminum casing with multi-sensor data functionality and parallel computing for lightning quick responses. The service robot includes a semantic map, autonomous navigation system to identify obstacles, communications systems to control elevators and identify verification via facial-recognition technology.