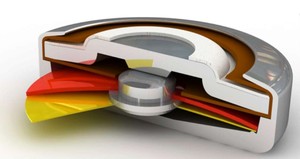 Source: Thermik Corp. Thermik Corp. will present and discuss their range of thermal protectors at APEC 2019, held March 17 to 21 in Anaheim, California. Thermal protectors prevent electric motor burnout by shutting the motor down when excessive temperatures are identified. The company claims to hold more patents and property rights than all other thermal protector manufacturers combined.
Thermik thermal protectors feature a continuously active bimetallic disc with an additional spring disc. This design reduces mechanical stress, improves switching behavior and creates an arc-free thermal protector. Other advantages include:
Circular design
Increased work capacity
Longer service life
No premature switching
More precise switching point accuracy
Thermik representatives, including company President Fred Goeckerman, will be located at Booth 442 to discuss applications and components.