The electronics industry has experienced massive growth in recent years as the market is flooded with a ton of devices with different functions and capabilities. However, with the rise in the demand for electronic devices, there is a high demand for power quality protection equipment to tackle frequent equipment failures and fire hazards.
One device that has been helping users prevent electrical equipment failures and fire hazards is the surge protector.
But what exactly is a surge protector, how does it work, and how is it rated for different applications? This article answers all of these questions and more: it will present answers to four frequently asked questions about surge protectors.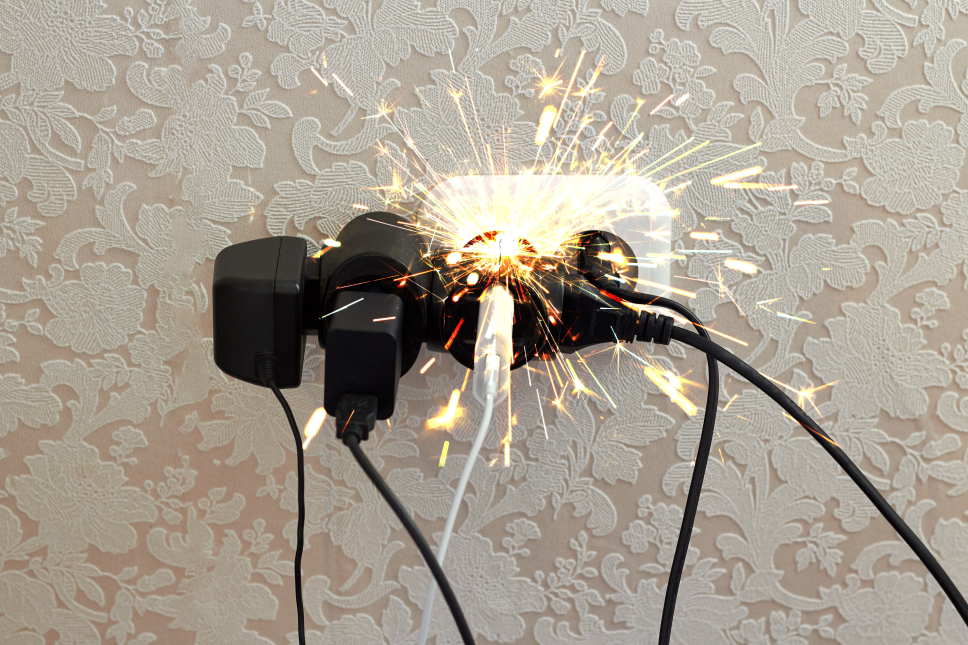 Surge protectors are helping to prevent equipment failures and fire hazards. Source: Oleg/Adobe Stock
What is an electrical surge, and what causes it?
An electrical surge is a sudden and sharp increase in the amount of current or voltage through an electrical system or equipment, which can cause the wires to melt and damage the whole system. It is generally caused by:
1. Electrical overload
Electrical overload usually occurs when one (or more) devices takes too much power from the electrical system than it is designed to handle. It may also occur when too many devices are connected to a single circuit.
2. Lightning
When lightning strikes an electric device directly, the device accepts the excessive current and voltage. This might cause the device to experience an electrical surge.
What are surge protectors?
As the name implies, a surge protector protects electrical devices from power surges. It redirects the excess electrical current to a grounding wire before it reaches the electrical device using a metal oxide varistor (MOV).
Look at it this way. A surge protector can be seen as a normally open valve that closes when a higher-than-normal electrical current is detected.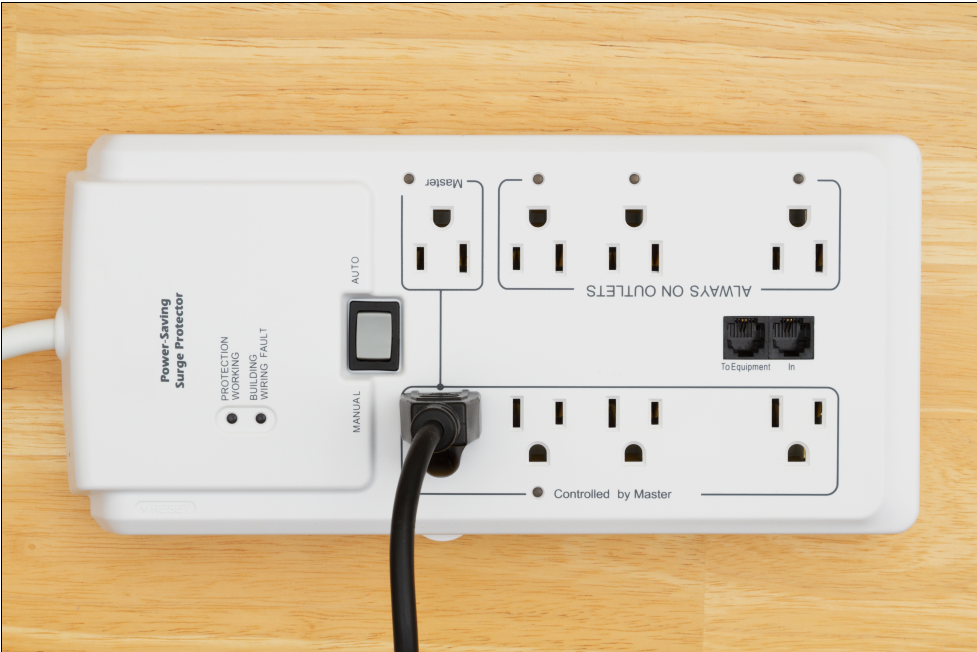 A power surge protector. Source: Karen Roach/Adobe Stock
How are surge protectors rated?
Here is a list of some specifications that engineers should look out for when selecting a surge protector for a particular application:
1. Clamping voltage
Clamping voltage, also called let-through voltage, is simply the amount of voltage (or spike voltage) that will cause the protective components in a surge protector to clamp. Clamping voltage is a performance measurement that tells engineers how well a surge protector can attenuate a surge. As a rule, lower clamping voltage indicates better protection performance.
2. Joule rating
The joule rating describes the amount of energy a surge protector can absorb before it fails. A higher joule rating indicates greater protection than surge protectors with a lower rating. This is because a surge protector can fail if the surge causes the MOV to dissipate more energy than the joule rating.
3. Response time
Response time basically describes how fast a surge protector kicks in. Surge protectors with shorter response times mean a piece of equipment will be exposed to the surge only for a short amount of time.
Surge protectors typically have a response time of 1 nanosecond, but several other surge protectors have shorter response times. Therefore, engineers should choose one that satisfies their application requirements.
What is the difference between a surge protector and a power strip?
A power strip is an extension box with many outlets and a flexible cable that plugs directly into an electrical receptacle. Simply put, a power strip allows end-users to plug multiple devices into a single wall outlet.
Like power strips, many surge protectors also have a bunch of outlets that plugs into an electrical receptacle. However, the major difference between these two devices is their level of protection. Surge protectors are specifically designed to withstand power surges and keep electronics safe. In contrast, most power strips do nothing besides provide extra sockets for users to plug their devices into.
End users can typically see the variance in surge protectors and power strips when they check the joules rating on the packaging. For instance, only surge protectors will have a joule rating on their packaging. In addition, some surge protectors have indicators (or alarms) that tell users when the devices' protection level has diminished and needs replacement.
[Learn more about power strips on Globalspec.com]
How are power strips specified?
The wattage capacity is one of the important criteria that engineers must consider when selecting power strips for a particular application. It is simply a measure of the power capacity of the power strip and can be calculated using:

Where:
P = wattage capacity of power strip
V = voltage of the circuit (mostly 120 V or 240 V)
I = current rating of the power strip (A)
Engineers must select power strips such that the total wattage of the devices connected to the strip is less than the wattage capacity of the strip. For example, a 15 A power strip on a 125 V circuit will have a wattage capacity of 1,875 W. Therefore, the total wattage of all the devices connected to the power strip must be less than 1,875 W.
Conclusion
Surge protectors and power strips are important devices that are used pretty much everywhere today. However, they come in different designs and sizes, with different capabilities. The right choice depends on the users' intended application.
[Learn more about surge protective devices on Globalspec.com.]