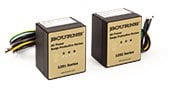 Meet the Latest UL 1449 Standard. Source: Bourns.comBourns, Inc. has announced the expansion of its AC surge protective device (SPD) line with two models that meet the UL 1449 safety and performance standard. Model 1251 and 1252 are designed to be high-performance hybrid surge protectors. Model 1251 is a Type 1 SPD for installation on the line side of a main service disconnects and Type 2 Model 1252 SPD is engineered for the load side.
Featuring transient protection for power distribution systems, both models support 120/208 Three-Phase Wye or Single Phase 120/240 VAC circuits. Model 1252 also features noise mitigation filtering.
The hybrid designs combine metal oxide varistors (MOV) and gas discharge tube (GDT) technologies. The H-SPDs are offered in NEMA 4X enclosures for indoor and outdoor installation. Wiring options include a 20-inch, 12-gauge wiring stub that exits the right side or rear of the protector. Both series offer thermal disconnect safety features and visual LED and audio alarm indicators.
Related link: